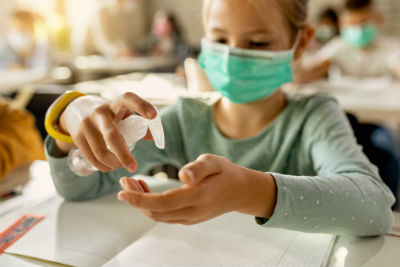 A team of researchers and clinicians at the Virginia Commonwealth University School of Nursing is leading a multi-institutional project aimed at studying the long-term health effects of COVID-19 in infants, children, adolescents and young adults.
Researchers are now enrolling participants. The goal is to better understand the prevalence and impact of long-lasting COVID-19 symptoms in children and young adults to develop effective treatments in the future.
The project is part of the Researching COVID to Enhance Recovery (RECOVER) initiative, a nationwide study funded by the National Institutes of Health.
Much of what is known about long COVID-19 is based on studies in adults, but less understood are the effects in children and adolescents, according to a news release from VCU.
Data from the Centers for Disease Control and Prevention estimates that, as of February 2022, about 75 percent of children and adolescents in the United States have had COVID-19.
"The RECOVER project is going to help us understand long COVID so we might develop treatments for those affected by the pandemic for years to come, but it's also going to give back to the families deciding to participate in the study by understanding important information about their children's development, health and mental well-being," said Amy Salisbury, professor and associate dean for research, scholarship and innovation at VCU School of Nursing, who serves as one of the principal investigators of enrollment sites for the RECOVER initiative. "This is an opportunity to help us find answers on how COVID-19 is impacting families over time and what we can do to minimize these effects."
The VCU School of Nursing is leading the efforts of a research consortium made up of VCU, Rhode Island Hospital and NYU Langone Health, but the RECOVER project is enrolling people across the nation.
The researchers are looking for children, teens and young adults who have had any symptoms from COVID-19, whether many or just one or two symptoms. Those who have not had COVID-19 are also welcome to join because they are equally important to better understand how living during a pandemic affects a person's health and development regardless of whether they became infected.
For the VCU study site, the research team aims to recruit approximately 240 families with children, adolescents or young adults age 25 or younger in central Virginia.
The project is split into three phases, each with different kinds of assessments. In the first phase, the research team will survey participants on their health and well-being and collect biological samples, such as saliva and a tiny bit of blood. The second and third phases will involve clinical assessments on some participants over the next several years to assess their health, including their lungs, heart and neurodevelopment.
To make it easy for enrolled families to complete the assessments, VCU School of Nursing will create pop-up clinics in neighborhoods within Richmond and the surrounding area.
"We know that coming downtown to our facilities is not feasible for some families. By bringing our research closer to participants, we hope to make it easier for everyone interested in this project to be involved," said Patricia Kinser, endowed professor and assistant dean for research at VCU School of Nursing, and co-leader at the VCU site with Salisbury. "To ensure we develop the best treatments for everybody, it's critical that a diversity of experiences is represented in this project," Kinser said.
Families involved in the project will get paid for their participation, as well as have access to their children's results from the study. The pop-up clinics are equipped with privacy screens, air conditioners and heaters, among other amenities, to ensure that participants are comfortable.
Families may learn more about this initiative and sign up to participate through the project's website at https://rampages.us/virginiakids4covidproject/.