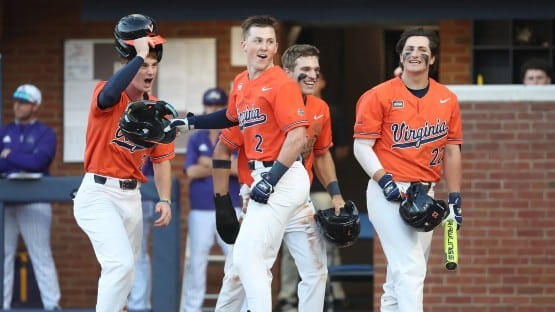 Ethan O'Donnell had one hit in last weekend's Charlottesville Regional, but he made it count – taking a first-pitch fastball out to The Clubhouse in left-center for a three-run shot in the seventh that was the difference in an 8-3 regional-clinching win on Sunday.
O'Donnell, a Northwestern transfer, has been a difference-maker for the #7 national seed Virginia, which hosts Duke in a three-game Super Regionals series that begins Friday at noon.
The 6'1" junior, who is slashing .372/.463/.620 with 12 homer and 60 RBIs this season, is a projected third- to fifth-round pick in next month's MLB Draft, but his focus is squarely on the task at hand, which is Duke, and the shot at a College World Series berth.
"We're not finished. We're not where we want to be yet," O'Donnell told reporters after the second win in as many nights over a game ECU squad.
O'Donnell, after two years in the Big Ten, is where he wanted to be. He put up good numbers in his two seasons at Northwestern, including slashing .320/.410/.619 with 10 homers in 2022, but he wanted to prove himself against elite competition in the ACC.
He landed at Virginia because he recognized that the UVA program "has done such a great job developing young men, and I feel like, in my time here, I've definitely developed as a player, you know, hopefully, in my career in that regard."
"But off the field, who I am as a person, who I am as a brother, husband one day, as a son, those are things that are truly important. And this coaching staff and the support system in the community and teammates in the locker room really, you know, help us with that," O'Donnell said.
That the Virginia program has churned out as many MiLB and MLB players as it has is a big part of the allure.
"This is the hardest working group of individuals I've ever been around in my life. Today was a testament to that," O'Donnell said after Sunday's win. "You know, who knows who's gonna have the big hit. We have we have guys who have been phenomenal the entirety of the year, and guys who might not have had as much success as they wanted. And today's a great example of, you know, it's one guy, and then the next guy steps up, and the next guy."
That's how a guy on a 1-for-9 weekend can end up having the big hit of the weekend.
"I mean, this is a tough game, you know, baseball, this is a tough game. You know, baseball, it'll put you down and keep you down at times, if you let it," O'Donnell said. "We have a guy by the name Brandon Guyer, who's our mindset coach, and, you know, he pushed this idea of, you know, pitch one. And I think that's something our team's kind of, you know, looked to do this entire year. The idea of what happened before, you know, it doesn't matter, what's going to happen doesn't matter, kind of focus on what you have in front of you.
"It's easy to get frustrated with not getting hits, hits not falling, but it's team, one through nine, is fantastic, and my job is just grind through this weekend and, you know, the timely hit came, but like I said, one pitch at a time was the mindset there."