The Virginia women's basketball team (7-7, 0-1 ACC) takes on Virginia Tech (10-4, 0-1 ACC) on Thursday, Jan. 9 at 7 p.m. at Cassell Coliseum in Blacksburg, Va. The game will be broadcast live on WINA-1070 AM with Channing Poole, Larry Johnson and Myron Ripley calling the action.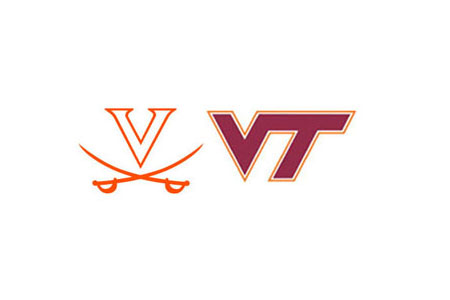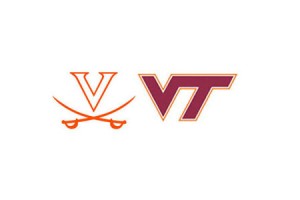 Virginia holds a 41-10 advantage in the all-time series and has won the last 14 meetings between the two teams. Since Virginia Tech joined the ACC for the 2004-05 season, the Cavaliers are 16-2 in conference games against the Hokies.  The Cavaliers' last loss in Blacksburg was a 60-58 game on Jan. 22, 2007. Last year, the two meetings between the teams were decided by a combined seven points. In the first meeting, Virginia won 52-48 in Charlottesville, holding off a late charge by the Hokies. The Cavaliers won the second meeting 50-47, coming back from down eight points to earn the victory.
Both teams come into Thursday's game after falling in their respective ACC openers last Sunday (Jan. 5). After trailing by 13 with just over eight minutes remaining, the Hokies came back to cut it two, but Boston College held off the Hokies for the 70-63 win. Uju Ugoka led the Hokies with 23 points and eight rebounds. Monet Tellier added 17 points while shooting 80 percent (8-of-10) from the field.
The Cavaliers battled Pitt in a game with 10 lead changes. After trailing by nine points with 4:33 remaining, the Cavaliers mounted two comeback bids. Virginia went on an 8-0 run to pull within a point with 2:28 remaining. After Pitt got the lead back up to six, 77-71, Virginia scored four points in 11 seconds to cut the deficit to two, 77-75, with 17.9 seconds left on the clock, but Pitt drew a foul and held on for a 79-75 victory, its first-ever ACC win.
Senior guard Kelsey Wolfe (Germantown, Md.) and sophomore guard Faith Randolph (Derwood, Md.) each scored 21 points against Pitt. For Wolfe, it was her second consecutive 20-point game after putting up 22 against Princeton.
The loss to the Panthers snapped a three-game win streak for the Cavaliers. Virginia has won four of its last six games. Beginning with the home contest against Maryland Eastern Shore, UVa is averaging 75.3 points per game and is shooting 42.9 percent from the field in its last six games. In the first eight games of the year, the Cavaliers averaged 62.4 points per game and shot 35.2 percent from the field. Wolfe averaged 8.0 points per game to start the season and has put up 12.0 ppg in the last six games. Wolfe has also converted 20 of her last 22 free throw attempts. Over the last four games, Wolfe is 11-of-20 (55.0 percent) from three-point range. She is also averaging 3.0 assists-per-game in the last four games.
Randolph has had back-to-back hot shooting games, making 12 of 19 field goal attempts (63.1 percent) and going a combined 8-of-9 from the free throw line (88.9 percent). Randolph shot 70 percent from the field against Pitt (7-of-10) and 85.7 percent from the stripe (6-fo-7).
In the last six games, redshirt senior guard Lexie Gerson (Fort Washington, Pa.) is averaging 8.0 points, 6.5 rebounds per game and in that timeframe has accumulated 16 steals with nine assists and two blocked shots. Gerson had a team-high eight rebounds against Pitt. Gerson is now second on the team in rebounding, averaging 4.6 rebounds per game. Gerson is fifth in the ACC and 57th in the nation with 2.5 steals per game.
Senior guard Ataira Franklin (Bowie, Md.) has scored in double-digits in five of the last six games. Franklin has made at least one three-pointer in each of the last seven games.
Junior center Sarah Imovbioh (Abuja, Nigeria) has scored in double digits in each of the last three games, including logging her sixth double-double of the season against Princeton with 12 points and 11 rebounds. Imovbioh is 10th in the ACC in rebounds per game at 7.6. Imovbioh is sixth in offensive rebounds with 3.6 per game. Imovbioh, who was 4-of-4 against Princeton, is tied for 10th in shooting percentage at 55.6 percent.
After the Virginia Tech game, the Cavaliers will play four straight games against ranked opponents including taking on three squads currently ranked in the top-10.  The Cavaliers will play No. 2 Notre Dame (Jan. 12) followed by No. 3 Duke (Jan. 16), No. 18 Florida State (Jan. 19) and No. 6 Maryland (Jan. 23). Three of the four games will be played in Charlottesville with UVa traveling to Duke. The Cavaliers could face five-straight ranked opponents as Syracuse, who was ranked in the top-25 last week but not this week, is still receiving votes in the polls. The Cavaliers play at the Carrier Dome on Jan. 26.