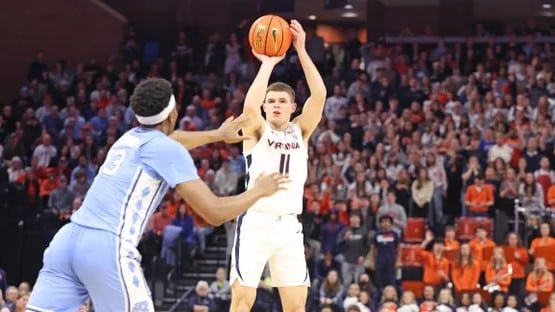 North Carolina is 17-11 overall, 9-8 in the ACC, 47 in the NET, and maybe most importantly, 0-9 in Quad 1 games.
Virginia needs a win in Chapel Hill on Saturday (6 p.m. ET, ESPN) to keep connected in the ACC regular-season title race.
North Carolina needs a win to keep its tenuous NCAA Tournament hopes alive.
The Tar Heels were the preseason #1 after their surprise run to the national title game last spring, and didn't have a lot in the way of roster changes to make you think that they'd have any reason for any kind of falloff.
Which makes how the 2022-2023 season has gone for second-year coach Hubert Davis all the more vexing.
He still has Armando Bacot (17.3 ppg, 11.1 rebs/g, 55.8% FG) putting up double-doubles most nights, and guard Caleb Love (17.1 ppg, 39.0% FG, 31.2% 3FG) putting up, well, a lot of shots (Love averages 15.2 attempts per game).
What's missing from last year is 6'9" stretch four Brady Manek, who did a little bit of everything – scoring 15.1 points per game, pulling down 6.1 rebounds per game, shooting 49.3 percent from the field and 40.3 percent from three.
The thought was that 6'10" stretch four Pete Nance, like Manek a grad transfer, Nance coming off a four-year run at Northwestern, where he averaged 14.6 points and 6.5 boards a game a year ago, would be this year's Manek.
That has not been the case. Nance is averaging 9.7 points and 6.1 rebounds, and his shooting from the field (41.3 percent this year, 49.7 percent a year ago) and from three (28.2 percent this year, 45.2 percent a year ago) has been nowhere near what was expected.
With nobody really a consistent threat from the perimeter, Carolina is shooting just 29.9 percent (!!!!) as a team from three-point range this season, after hitting on 35.8 percent from long-range a year ago.
The best shooter from three among the rotation guys is little-used 6'5" sophomore D'Marco Dunn, who is scoring a modest 2.8 points in 10.6 minutes per game, and is shooting an even more modest 33.3 percent from three.
Seriously, that's as good as it gets.
You can see why this team is struggling from those numbers.
Carolina does come in off a win, a 63-59 grinder at Notre Dame from Wednesday, just the Heels' second win in their last seven games.
Projections
EvanMiya: North Carolina 68-65, 61.1% win probability
KenPom: North Carolina 68-65, 58% win probability
BartTorvik: North Carolina 66-64, 58% win probability
ESPN BPI: North Carolina +1.2, 55.1% win probability