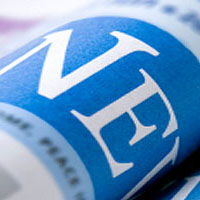 The art of weaving will be exhibited on Grounds beginning Monday, bringing with it rich colors, intricate patterns and the multi-layered skills of Native Americans working in their tradition.
Celebrated Navajo weaver D.Y. Begay will journey from her home in Santa Fe, New Mexico, for a weeklong interactive residency on Grounds sponsored by U.Va.'s Arts Administration Program. The program's successful and ongoing residency programming aims to bring the arts directly to its audiences, engaging students and faculty across Grounds and disciplines.
Begay is a fourth-generation weaver and one of the most distinguished artists in her field. Her tapestries are intricate and complex, calling upon decades of experience.
She painstakingly collects, dyes and weaves the wool she harvests herself. Inspired by the beauty of her American Southwest landscape, Begay uses textiles to introduce audiences to her Navajo culture.
The spirituality of the Navajo cosmology flows through Begay's fingers into her colorful and complex weavings. Her work has been featured in museums nationwide, and in 2016, she will exhibit her art at the Georgia O'Keefe Museum in Santa Fe.
"I am looking forward to visiting the University and sharing my weaving culture and Navajo traditions with everyone," Begay said.
For George Sampson, who heads the Arts Administration Program, Begay is a great artist-in-residence for this spring.
"I'm teaching 'Arts and Spirituality' as our Arts in Context course this semester, and Begay is the perfect fit for illuminating this topic; in fact, sheembodies this topic," he said. "Weaving in Native American cultures is a rich and highly personal tradition, and our students could really benefit from learning about this underexplored point of view."
To facilitate interdisciplinary learning, a significant portion of the residency will include Begay giving public weaving demonstrations on her portable loom, to take place in three-hour blocks in strategically chosen, highly populated areas around Grounds.
"By showcasing Begay's weaving in areas where students frequently travel, we are bringing the art to its audience in a very literal sense," Sampson said. "This type of public artistic disruption will reach a previously unengaged portion of the student body, providing accessibility to the arts in unprecedented ways."
Begay's demonstrations will be held Tuesday from 9 a.m. to noon in Clark Hall, and from 2 to 5 p.m. in the Fralin Museum of Art; and Wednesday from9 a.m. to noon on the third floor of the McIntire School of Commerce and from 5 to 6 p.m. as part of a community weaving circle at OpenGrounds.
The community weaving circle is free and open to the general public. Fiber artists of all types and skill levels – from knitters to crochet enthusiasts – are invited to gather and work with Begay in an informal setting, sharing their work and experiences.
"The possibilities for student and public engagement with this remarkable Navajo artist as she weaves during her 'nomadic residency' are endless," Sampson said.
Past artists-in-residence sponsored by the Arts Administration Program have included internationally acclaimed dancer and choreographer Bill T. Jones; innovative and boundary-pushing jazz musician Bill Cole; and a wildly popular professional-student and interdisciplinary collaboration, the Stan Winston Festival of the Moving Creature.
The Arts Administration Artist-In-Residence is presented by the Office of the Vice Provost for the Arts, Cultural Programming Board, the McIntire Art Committee, the U.Va. Ceramics Club and the Arts Administration Program.