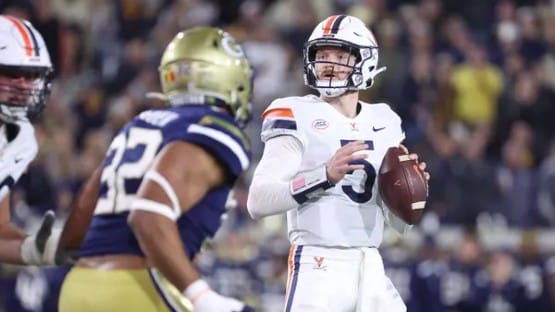 Brennan Armstrong isn't sure what the response from UVA Football fans will be when he takes the field for NC State on Friday.
"I put blood, sweat and tears into that place for five years. Hopefully they're not too hard on me," Armstrong told reporters on Tuesday, ahead of the game that folks on both sides have had circled on their calendars since the date was set back in the spring.
"If they are, it's no big deal. I'll be ready for it," said Armstrong, who passed for a school-record 9,034 yards and 58 TDs in parts of five seasons at QB at Virginia, including his school-record 4,449 passing yards and 31 TDs back in 2021.
After a subpar 2022 in the first season of Tony Elliott's run at UVA, in which Armstrong passed for 2,210 yards, seven TDs and 12 INTs, Armstrong decided to hit the transfer portal, and ended up at NC State.
Friday night will be the first, and last, game back in Scott Stadium for the 2021 UVA alum.
"It'll be interesting. I really don't know. Maybe they like me, maybe they boo me. You don't know what you're going to get. That's not why I'm there. I'm there to win a game. That's where my focus is," Armstrong said.
Armstrong's move to NC State allowed him to reunite with his offensive coordinator at Virginia, Robert Anae, but the early returns on their renewed relationship have been mixed. BA was picked off three times in State's 45-24 loss to Notre Dame in Week 2, and the times being what they are, there were whispers around the blogosphere about Armstrong maybe being headed for the bench.
He got back on track a bit last week in the Pack's 45-7 win over VMI, passing for 264 yards, completing 27 of his 32 pass attempts, and gaining 39 yards on six rushing attempts.
"We're still early. We're still trying to improve as an offense," Armstrong said. "It's funny, you hear about, Is it going to be the same? We got different personnel here. We got different players on the field. I think we're doing a really good job of trying to figure out what's good and what's not good.
"We're trying to get guys still in position to be successful. We were in fall camp and spring ball and you try to get those guys, you try to figure out what guys are really good at. You get into the first, second, third game, the lights are on now, and it's a real game now. The scoreboard's on. We're starting to figure it all out.
"Still excited. It's early in the season. We're finally getting into ACC play. It's really going to put our offense to the test each week because those games are not easy to win no matter where you're going in the ACC. I'm looking forward to continue to get better. Try to put more points and give our defense more room to work with," Armstrong said.
The return
Armstrong, a UVA alum, should get a warm reception from the UVA faithful, if only because he did everything that should have been expected of him.
After his record-setting 2021, there was speculation that he might declare for the NFL Draft, which would have made some sense, given that his stock was about as high as it could be with his numbers from that season – he completed 65.2 percent of his passes in Anae's Air Raid, had six games of 400+ yards passing, including 554 yards and four TDs in the 59-39 loss at UNC in Week 3.
Armstrong did go through a formal draft evaluation before deciding to return, which by the time he would have been set to return meant starting over with Anae gone, after the shocking resignation of head coach Bronco Mendenhall.
BA never did click, unfortunately, with the pro-style offense of Elliott and the new offensive coordinator, Des Kitchings. His completion rate dropped to 54.7 percent, and his TDs dropped from 31 in 2021 and just seven in 2022.
"I've never had that type of offense. I've never understood the three jet, the two scat, the terms of an NFL offense," Armstrong said. "It's funny, we talk a lot of ball in our room as a quarterback room. Coach [Kurt] Roper, he's been around an NFL offense for quite some time. He understands certain things, and he's said things, and I'm like, Wow, if I didn't have that year, I wouldn't have understood those things that he's saying. He tries to bring it back into terms of our terminology here, but his first thought is the universal thought of football in that terminology. That's what we were running there.
"I think a lot of that stuff was super beneficial for me, getting that experience. No year is a waste year. I think I learned a lot last year, and it's helped me," Armstrong said.
That's the kind of thing you want to hear, that even with the struggles in 2022, he goes out of his way to say that he "learned a lot."
Armstrong, considering the day and age that we live in, would have had every reason to trash Elliott and Kitchings on the way out the door given how things went, but didn't, and still won't.
Elliott, among others, noticed, and appreciates, the graceful way that Armstrong has handled his exit.
"What I will say about BA is, I'm grateful for BA for two reasons. One, for everything that he did for the University of Virginia and this football program as a player here. I'm grateful for how he handled his departure. He handled it the right way with me, and when he was here, man, he made an effort. He made an effort to transition, to help myself and this coaching staff with this team," Elliott said.
For some in the fan base, not many, but some, there's a motivation to try to make Friday night into some sort of revenge game, but Elliott doesn't want the game to be about settling scores for his guys.
"For me, there's nothing personal about this game when it comes to BA other than he's the opposing quarterback, and I would never use that as motivation with his teammates, because at the end of the day, as we're learning and I'm teaching this football team, emotion doesn't win the football game. It's a part of it. It's essential. But emotion alone cannot win the football game. You've got to bring all the other components with it," Elliott said.
"For me, I want to win because it's the first ACC game, it's the goal on our goal board, to win our ACC opener. It's a really, really good football team that's coming into Scott Stadium. That's why I want to win the football game," Elliott said.
"This is the day and age that we live in," Elliott said. "The kids may have that. I wouldn't encourage that. I'm not going to talk about it. I'm not going to try and live in their world. To be honest with you, I bet you there are probably going to be some hugs and some daps before the game because they're friends, also. It's the day and age we live in in college football."
You don't get the sense, listening to Armstrong, that there's any sense on his part about wanting to make Friday night more than it already is, either.
"Like I said, preparing-wise, I'm doing the same old, same old. What I would do every week. Whether it's coming off a win, coming off a loss. You stick to your schedule, your routine and you continue to get better and go about your week," Armstrong said. "It's a cool week for me, going back and playing in Scott Stadium. Like I said, I think I'll have a bunch of emotions when I get out there and start running through, when we hit the field. Like I said, I'm going to refocus and do my job. My job is to go in there and win.
"I have to take it one play at a time," Armstrong said. "I think once the game gets going, I'll be able to refocus. Play some football and have some fun out there. Like I said, it's a unique opportunity for me. I think the best feeling would be coming out of there with a win. I think that would be the best feeling for me. That's going to be my goal."