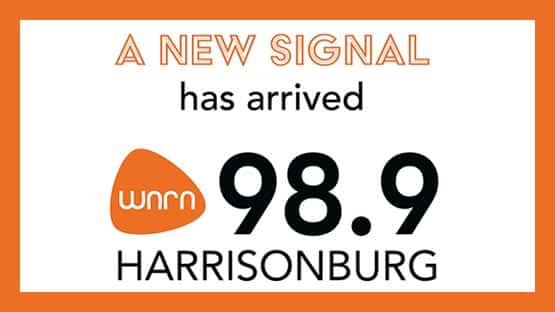 If you live in the Harrisonburg area, and are a regular listener to WNRN, you might have noticed the 95.1 frequency is now offline.
Don't worry, they haven't gone away – they've just changed where you find them on the FM dial. You'll need to update your preset to the new signal at 98.9.
The change was made on Friday and triples the power of the transmitter offering independent music to an even larger market.
"This change will give WNRN the ability to reach more listeners in Harrisonburg on a consistent basis," said Ian Solla-Yates, development director at WNRN. "The old signal got us into the city but was riddled with reception issues caused by terrain and weather. The new signal will cover more area with more strength and hopefully address the problems that had persisted."
There was no change to the Staunton and Waynesboro frequency which remains at 101.1FM and the Charlottesville station at 91.9FM.
WNRN has covered the Harrisonburg area since 2006 with a 25-watt transmitter out of Charlottesville.
"Harrisonburg is a crucial market for us," said Solla-Yates. "Red Wing Roots Music Festival is one of our biggest partnerships and the Harrisonburg community is essential to the success of that event.
"We love our listeners and partner businesses in Harrisonburg, but the music scene is what is really phenomenal," he said. "Harrisonburg bands like Illiterate Light, Dogwood Tales, The Steel Wheels and Spectator Bird make up a significant portion of our playlist, and we are lucky to be able to be a bigger part of that scene."