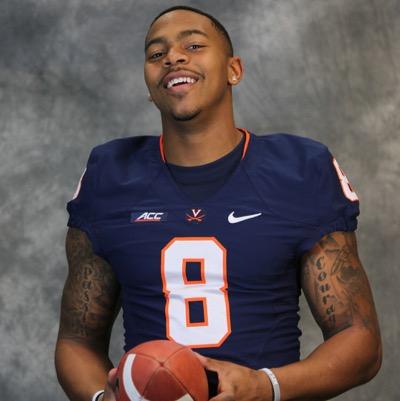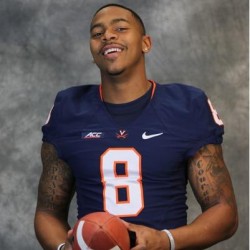 It could have been awkward for T.J. Thorpe to meet his new UVA teammates. A few months ago, Thorpe was the enemy, and not just the enemy, but the guy on the enemy responsible for the play that turned a promising Cavs' season into something else entirely.
"We just don't talk about it," Thorpe answered a question from a reporter after UVA's spring game Saturday night.
What they don't talk about is Thorpe's game-winning catch for North Carolina in the Tar Heels' 28-27 win at Virginia in October.
UVA had started the 2014 season 4-2, and after a narrow loss at Duke still seemed headed toward the postseason. A late-game meltdown that featured a Greyson Lambert interception, Thorpe's touchdown catch on a third-and-forever and an onside kick recovery that allowed UNC to run out the clock.
Virginia finished 5-7 and missed the postseason again, putting pressure on coach Mike London, who almost certainly has to get the Cavs at least to a lower-tier bowl in 2015 to keep his job.
It won't hurt having Thorpe, who transferred from UNC after completing his degree and will be eligible to play at UVA in the fall as a grad student, in the mix.
As a senior at Carolina, Thorpe had 16 receptions for 237 yards and four touchdowns. As a freshman, Thorpe was a finalist for the Johnny Rodgers Award that goes to the nation's top kick returner after leading the ACC in kickoff return yards.
He then missed the 2012 season due to injury, and wasn't able to work his way back up the depth chart upon his return.
The former SuperPrep All-American is just looking to fit in with his new teammates.
"I just feel like I have a point to prove," Thorpe said after the UVA spring game on Saturday. "There's hype around me, whatever, but I feel like you've got to gain respect of your teammates before you can do anything, and the respect of your coaches. My ultimate goal, after getting healthy, was to make sure that when we cut the film on, everybody knows, yeah, T.J.'s a ballplayer, and he's going to be somebody big for us."
Thorpe wasn't able to showcase what he will be able to do in the return game on Saturday, with the format for the spring game not including kickoff and punt returns. He did offer a glimpse into what he can do in the open field on an early 46-yard run on an inside handoff, and for the game he racked up 105 total yards from scrimmage on six touches.
London is understandably high on Thorpe and what he can bring to the UVA offense and special teams in the fall.
"We talk about taking the top off of a defense. He can stretch the field vertically. He's our punt returner. He's going to be involved in our special teams. He's a dynamic player. We want to try to find ways to get him the ball. He has been pretty consistent throughout camp being a guy who can make plays," London said.
– Story by Chris Graham