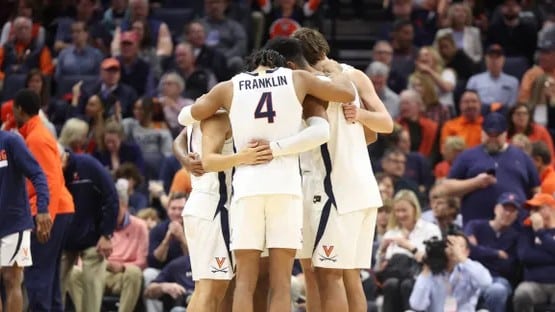 It sure does seem like Tony Bennett is thinking that he's going small ball the rest of the way this season.
The first and most obvious sign is that he left his small-ball lineup out there for the bulk of Saturday's 69-62 OT win over Duke, which outrebounded his guys 39-24, and no, Bennett isn't just saying there by going small and staying small when Duke was almost literally getting every rebound, I don't care about rebounds, but there was a recognition in what he had to say after the game that there's more to the winning formula with this year's group than just hanging tight on the boards.
"This was the group that we've kind of been going with these last eight, nine, 10 games, and it doesn't mean Kadin (Shedrick) won't get opportunities, or you know, if we get in foul trouble, or the same thing with (Francisco Caffaro), but the game, you know, if you're in good position, you block out, you can overcome that, and then offensively you get some advantages you might not have," Bennett told reporters after the game.
The next words out of his mouth were "there's, you know, again, a trend, the way the game is going," and I hoped he would continue going down that line, to further explain his thinking, but his attention ended up back on what his guys were able to do to get the win on Saturday, and the way press conferences work, with reporters needing to ask about some call at the end of regulation that you might have read about, he never did get back to waxing poetic on "the way the game is going."
The fact of the matter is, the game has been going away from throwing a traditional two-guard, two-forward, center lineup out there for a while now, and Bennett, a traditionalist if there ever was one, has been on the forefront at the college level of adapting to the new way of playing.
His 2019 national title game starting lineup featured four guards and a small-ball center, Mamadi Diakite, and then in 2020-2021, his best lineup had two 6'8" guys and a seven-footer setting up on the perimeter, and a pair of point guards attacking the paint to create shots for themselves or to kick out to the big fellas for open threes.
Bennett went traditional for the first couple of months with this year's team, with a starting lineup that had Shedrick, a 6'11" defense-first center, whose game is held in high esteem by the metrics set.
But when it became clear that the offense was stagnating with Shedrick clogging up the middle, Bennett experimented with Ben Vander Plas, a 6'8" perimeter shooter with the lower-body strength to be able to bang in the post, at the five spot.
Going with Vander Plas at the five has opened up things for Virginia offensively, and while the defense sometimes misses Shedrick's elite rim protection, Bennett has schemed up adjustments to make it harder for opponents at the rim.
"Our rim protection was taking charges today," Bennett said; a look at the play-by-play had Virginia forcing six Duke turnovers on offensive fouls, in addition to blocking four shots, so, best of both worlds there.
It was the second straight gangbusters performance for Virginia defensively. Duke scored 0.939 points per possession on Saturday, after NC State, the top scoring team in the ACC this season, had notched just 50 in a loss to UVA earlier last week, scoring at a 0.862 points per possession clip in that one.
Going small is supposed to hurt on the defensive end, so what we've been seeing on that end of late has been a plus.
The new life on the offensive end with the small-ball lineup has keyed the 9-1 stretch dating back more than a month now, the focal point there being similar to what Bennett was able to get from his 2019 and 2021 teams – point guards having space to create in the paint for themselves or for shooters on the perimeter.
The interplay between Reece Beekman and Kihei Clark is beginning to approach what Bennett was able to get out of Ty Jerome and Kyle Guy in 2019.
Remember that back in 2019, Jerome and Guy had been together for three years, and had chemistry that you get from scrimmaging, practicing and playing games together for that long.
Beekman and Clark are in their third year sharing the ball in Bennett's backcourt, and even more than their impressive counting numbers – Clark is averaging 11.6 points and 5.9 assists, Beekman is averaging 10.0 points and 5.1 assists, and both are putting up career-best shooting numbers – it's the intangibles that come with their familiarity with each other that stand out the most.
"They did some things that look like we made some great play calls, but it was just them improvising, looking at a couple backdoors and playing the game and understanding that, and that's where experience and playing together a lot of years and minutes made a difference," Bennett said after Saturday's win.
Clark was the standout, using his experience – the fifth-year was one of the starters in the four-guard lineup that brought home the national title in 2019 – to play Duke's talented young guys into bad situations.
"They were mixing up their coverages. Sometimes they'd switch the ball screens, sometimes they didn't. And so, we were trying to just cause some indecision at the point of the screen, and Kihei was quick, and he was finishing today, and again, made some plays when we needed to get back in the game. So, we tried to open the court a little for him, and just use different things, and again, his experience showed," Bennett said.