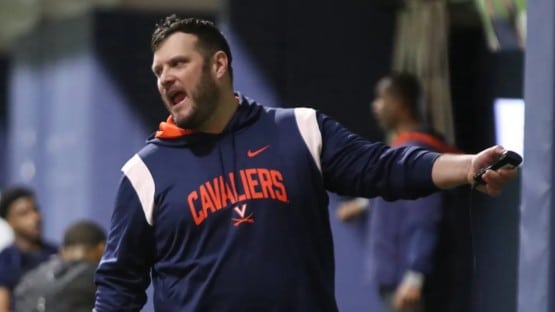 New Virginia offensive line coach Terry Heffernan accepted a position on head football coach Tony Elliott's staff at Virginia having never been on Grounds.
For that matter, Heffernan had no previous connections to Elliott, a rarity in the current day networking of college assistant football coaches.
Heffernan was hired last month to replace Garett Tujague, who's now at NC State, along with former Cavalier quarterback Brennan Armstrong and former UVA offensive coordinator Robert Anae.
Heffernan had spent the last two seasons at Stanford, but when Cardinal head coach David Shaw stepped down in November, Heffernan was back seeking employment.
"It was certainly a transition for me at Stanford," Heffernan told a small gathering of local media Friday morning at the George Welsh Indoor Football Facility. "A transition of figuring out what it was like to recruit that level of student-athlete, and sorting through what recruit was a good fit."
Transitions are what Heffernan has plenty of experience handling. He began his coaching career at Cumberland University, an NAIA school in Tennessee, and also spent time as a graduate assistant at Michigan and Louisville.
Heffernan has coached in the NFL with both the Detroit Lions and Buffalo Bills.
"I've been at the highest level and have five years coaching in the NFL, and I've coached at the NAIA level," Heffernan said.
So exactly how did Heffernan get from one coast to another without any previous connections to Elliott?
"I had no connections, which is usually a death knell in this business, but when Coach Shaw resigned at Stanford, I made it known that I was available, and when this job came open, I was very interested," said Heffernan, "and I made it known to a lot of people here of my interest."
What makes the job appealing, said Heffernan, was the similarities between Stanford and Virginia.
"In regard to the academic component and integrity of the university and recruiting a similar profile kid, every school is different, having spent two years there (Stanford), you gain a lot of experience that's often not applicable to a lot of places," Heffernan said.
Heffernan has a grasp of the type of profile Virginia is looking for on the offensive line. He should – he recruited against UVA for many of the same players.
"I consistently recruited against Virginia on offensive linemen, so I knew that it was a similar type of kid that we were targeting, and then knowing Coach Elliott, his reputation, his career, and the fact that he is early in his tenure here, played a role," said Heffernan.
At Stanford, Heffernan worked for a coach whose trademark was a powerful offensive line, and a strong, grinding running game. It's those two aspects that Heffernan was brought to Charlottesville to help construct.
"If you want to consistently win in college football, you have to be able to run the ball," Heffernan said. "The ability to run the football is always important, more so in late-season games when weather can always be a factor. Running the football is something we're committed to," added Heffernan.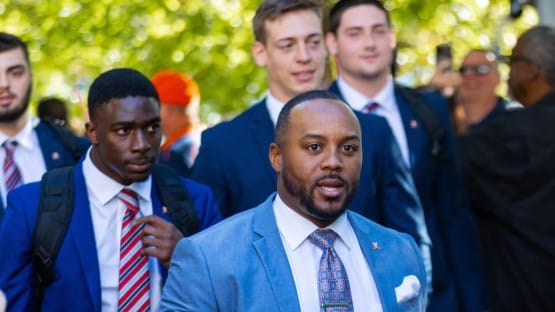 For wide receiver coach Adam Mims, his new position didn't require a long-distance move. Mims was already on Elliott's staff as a senior offensive analyst.
Sims replaces Marques Hagans, the longtime UVA assistant who left in January for Penn State.
"Honestly, there wasn't too much in the way of conversations with Coach Elliott, if you know Coach E, you know he is a quiet guy who keeps a lot to himself. I've known Coach Elliott for a long time, and I've always wanted to work for him," said Mims.
As far as what drew Mims to stay at Virginia and take the wide receivers coaching position, Mims said it was more about his relationship with Elliott and his belief in the system that is now in place at UVA.
Mims will certainly have his back to the wall next season as he takes over the reins of the Virginia wide receiver room that has had a one-way door the past few seasons. In 2021 the Cavaliers had five receivers with at least 500 receiving yards, but that number dropped shockingly last season.
Going into spring practice, the receiving group is short on depth and experience.
"We have some talent and some players that are hungry," said Mims. "I think the competition between the players is important, the group is hungry, has a lot to prove and wants to prove something, the competition between the players has taken over," added Mims.