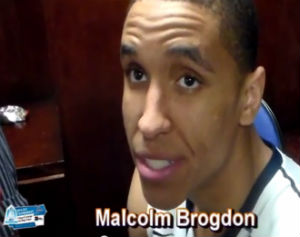 As a freshman in 2011-2012, UVA guard Malcolm Brogdon showed flashes of the brilliance that was to come, putting in a season-high 16 points in the ACC/Big Ten Challenge against #14 Michigan and scoring in double figures in three ACC games.
After missing 2012-2013 to injury, Brogdon was expected to be a key contributor for the 2013-2014 Cavs. No one was expecting him to be the man with Joe Harris having established himself in that role, but the 2013-2014 squad quickly became Brogdon's team as he embarked on a season that would end with him being named first-team All-ACC and on a clear path toward a long career in the NBA.
With Harris now playing for the NBA Cavaliers in Cleveland, it would help if one of Brogdon's teammates could emerge in 2014-2015 the way Brogdon did last year.
"We're going to improve collectively if you guys make improvements, and for some guys, it's just little improvements," UVA coach Tony Bennett said. "They can make these huge jumps in their own game with coach [Mike] Curtis in the weight room, with their conditioning and their athleticism.  We use the term of not honing your skills, owning your skill. Whatever that skill is we focus on really developing, improving and adding something to make it even better."
Bennett, for his part, isn't so sure that Brogdon doesn't have room to grow.
"I think that with Malcolm, who had such a solid season, that he is going to be targeted this year and there is going to be a lot of focus on him. How he deals with that will be another step, though he had some of that attention last year, it will be another step this year. Hopefully he'll adjust to that well," Bennett said.
Asking Brogdon who he sees as being ready to make the big leap, he ticks off the names of several teammates.
"I see a new level of commitment, from Darion [Atkins], AG (Anthony Gill), who is our heart, when he came over from South Carolina, he brought that level of hard work and commitment. Darion has really been working hard. Mike Tobey has really been working hard. And I think they can play really huge roles and make big jumps this season for us," Brogdon said.
Tobey, a 7'0" junior center, looks like an entirely different young man from the spindle that you may remember from March Madness. Now listed at 253 pounds, Tobey looks to have put on 10 pounds of muscle, and has noticeable bulk definition in his upper body for the first time.
"This offseason I really put a lot of focus on getting a lot stronger, hitting the weight room kind of hard. It was a good offseason for me," said Tobey, who averaged 6.4 points and 3.8 rebounds per game in 2013-2014, and will have to boost both of those numbers in the absence of Akil Mitchell, who is now trying to play his way onto an NBA roster.
Sophomore point guard London Perrantes focused in the spring and summer on improving his off-the-dribble game.
"A lot of people already know that I can catch and shoot," said Perrantes, who shot 43.7 percent from three-point range as a freshman. "Being able to run by somebody that's running out really hard is definitely something I worked on this year," said Perrantes, who may see more time at the two-guard position with the emergence of redshirt freshman point guard Devon Hall.
– Column by Chris Graham