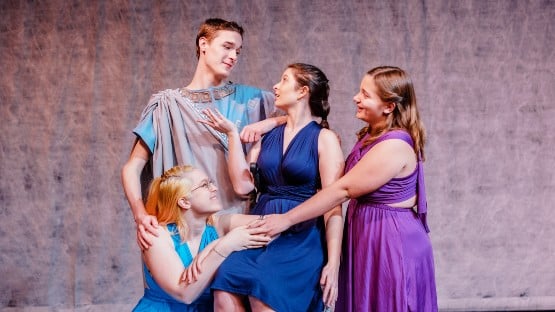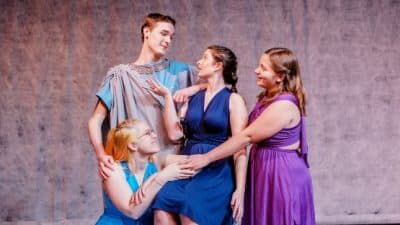 In January 2020, the Shenandoah Valley Governor's School were the first theater students to perform "Hello Girls."
This weekend, 14 theater students will be the first to perform "The Olympians" on stage.
Both plays were written by the same playwrights.
Cassy Maxton-Whitacre, theatre and communications instructor at SVGS and director of "The Olympians," said the playwrights wrote "The Olympians" during the COVID-19 lockdown.
"It's very, very different," she said of the two shows, although both are musicals.
Maxton-Whitacre said she liked the idea of piloting another production.
"It's very much a female-centric hero story. Greek goddesses look through the canon and decide to pick — love, wisdom, courage, fighting. Friendship becomes the winning power," she said. The goddesses end up working together, not competing with each other and validate the importance and presence of different skills.
"The Olympians" is a "fun and fresh take on Greek mythology" with existing music from the 1960s to the 2020s.
"I really like the selection of music they chose," Maxton-Whitacre said.
Performing a pilot theater production appealed to Maxton-Whitacre because it created an opportunity for her students to explore creative freedom as a group.
"We've had a lot of room to play and experiment," she said. Maxton-Whitacre and her students began working on the production in late October 2022.
Adding their own creativity to the production gives the students ownership of the final performances.
"That's my goal is that we feel we created collaboratively," she said.
Oliver Oakes, a senior at Staunton High School, will portray "Apollo," the God of sun and light. In musical theater since 8th grade and part of the group of theater students at Staunton High who won at state competition, Oliver said he has a big number during which Apollo leads the cast walking on a ray of sunshine and singing "Walking on Sunshine." He said the production's writers made the show original and fit the musical to ancient Greece.
"Jukebox musicals always have strange elements," Oliver said.
Normally, a playwright will write a script then write the music around the script, but with a jukebox musical the playwright writes the script around the music. "The Olympians," despite being set in ancient Greece, contains a lot of pop culture references.
"That being said, I'm really impressed with how the writers have incorporated contemporary [songs]," Oliver said.
To prepare for his role as the God of sun and light, Oliver said he thinks about what Apollo would do in any given situation, and now he is able to step into his shoes any time.
"I hope they take away, most of all, a heartwarming, comedic experience," Oliver said. The show begins with: "We have you all gathered here today for a very serious reason." However, the show is actually a comedy.
Oliver said he hopes audience members also get from the production that patriarchy is bad and that women are equal and sometimes stronger than men.
He also hopes the audience enjoys the show, and later looks back on the show and is able to remember a scene, image or line that is funny and laugh.
"It's mostly really getting into costume," Ava Quesenberry said of preparing to portray "Zoe," a Spartan princess.
Performing in theater since she was 4 years old at her church, Ava, a senior at Staunton High, said when she gets into costume, the lights come up and the music starts "that's when your character really sets in for you." She also tells herself that she is not a 17-year-old girl, but a young woman in Sparta preparing for a journey.
"This one is very fun and it's music that I really like," Ava said of "The Olympians." She knows the audience will enjoy the production.
She hopes that audience members take away the reality that men and women can do anything.
"I think the big thing I want them to take away is men and women all have heroes we can look up to," she said.
The production is good for little girls to see. Ava said she did not see many musicals when she was a child with "feminine power."
"It's just going to be a really fun show [for everyone]," Ava said.
"The Olympians" will be performed at ShenanArts, 300 Churchville Avenue, Staunton, Jan. 19-21 at 7 p.m. and Sunday, Jan. 22 at 3 p.m. Tickets are available online.