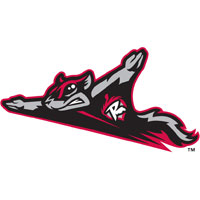 The Richmond Flying Squirrels (75-60) clinched a place in the Eastern League post-season with a, 5-4, win over the Altoona Curve (56-79) at Peoples Natural Gas Field on Monday night.  The Squirrels also needed a win by Erie over Bowie to seal their post-season berth.  Akron also lost on Monday, increasing Richmond's division lead to three games.
The Curve struck first in the fourth inning against lefty Jack Snodgrass.  Uncharacteristically, Snodgrass put himself in harm's way with back-to-back one out walks issued to Stetson Allie and Ramon Cabrera.  Willy Garcia followed with a single to left field to load the bases.  Andy Vasquez then made it 1-0 when he dumped a single into left field.
The Squirrels stormed back in the fifth against right-hander Angel Sanchez.  The uprising came with two down, as Kelby Tomlinson got things started with a single to right field.  Elliott Blair followed and cracked his first Double-A home run to left field to give Richmond their first lead, 2-1.  Sanchez then walked Blake Miller.  Miller promptly advanced to second base on a passed ball.  Devin Harris scored him for a 3-1 advantage when he fisted a single into center field.
Myles Schroder ignited the Squirrels again in the sixth inning when he led off and laced a double to the right-field corner.  Tyler LaTorre followed and singled to center field to put runners on the corners with nobody out.  Skyler Stromsmoe then lifted a sacrifice-fly to center field to stretch the lead to 4-1.
Sanchez (0-2) took the loss for the Curve, working 4 2/3 innings.  He permitted four earned runs on seven hits, walked four and struck out three.
Richmond got an additional run in the seventh inning off of righty Matt Benedict.  Miller collected a broken-bat single as the lead-off man and then stole second base.  Angel Villalona followed the first out with single to right field.  Miller had stopped around third, but scored when the throw to the plate was errant.
Snodgrass (11-6) steadied himself and lasted seven innings to earn the win.  He allowed just the lone run on four hits.  He did walk five, but struck out seven and induced two double-plays.
The Curve made the game interesting with three runs against right-hander Carlos Alvarado in the eighth inning.  Ramon Cabrera highlighted the inning with a two-run double to the right-field corner.
Lefty Phil McCormick came on and recorded the final out of the eighth inning, keeping the Squirrels in front, 5-4.  Righty Hunter Strickland then mowed down the Curve in the ninth to seal the win.
Game two of the four-game series is scheduled for 7 p.m. on Tuesday night at Peoples Natural Gas Field.  Richmond LHP Ty Blach (7-7, 3.40) will make the start against Bowie LHP Thomas Harlan (3-3, 3.24).  The Flying Squirrels Pregame Warmup will begin at 6:30 p.m. on Sports Radio 910 and SportsRadio910.com.