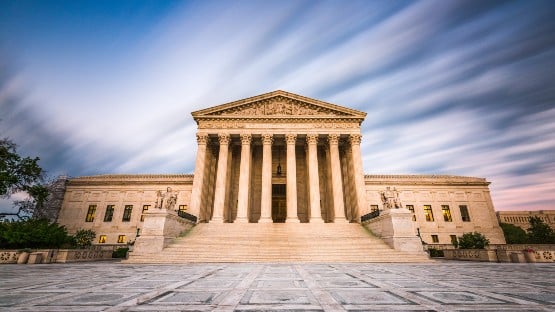 The Supreme Court announced today it will hear arguments next term related to the constitutionality of the Consumer Financial Protection Bureau, or CFPB.
Three Trump appointees on the Fifth Circuit Court of Appeals ruled in October that the agency's funding is unconstitutional because the CFPB gets its money from the Federal Reserve. The Reserve is funded by bank fees – not by Congress. The appeals court ruled the agency's funding needs to be appropriated by Congress annually.
The case, CFPB v. Community Financial Services Association of America, was brought by a payday lending group.
The bureau was created by the Obama administration, and the funding was set up to protect it from political influence.
The Biden administration, in a brief to the Supreme Court, said that programs like Social Security and Medicare are funded in a similar manner – not through annual appropriations.
"If the Fifth Circuit decision is allowed to stand, it will be harmful to all of us," said Virginia Organizing chairperson Lily Hungarland. "Virginia Organizing worked with Americans for financial reform and many other groups to support the creation of the CFPB because we could see how many people were impoverished by predatory lending. The big banks and other lenders will always take advantage of low-income folks as much as the government allows them to.
Since the CFPB got started, they have provided relief to about 175 million consumers in the form of restitution or canceled debts, and $1.8 billion in civil penalties.
"They force the big banks, the credit card companies, and other lenders to follow the rules," said Hungarland. "The Supreme Court must protect the funding of the CFPB. If they don't, it will be a disaster for all Americans, especially the most vulnerable."
U.S. Sen. Mark R. Warner (D-VA), a member of the Senate Banking Committee and a lead author for the Dodd-Frank Wall Street Reform and Consumer Protection Act of 2010, which created the CFPB, said the case could have far-reaching implications.
"Congress created the Consumer Financial Protection Bureau after the financial crisis to enforce consumer protection laws and make sure the banks, credit card companies and other financial institutions aren't abusing their powers to take advantage of everyday Americans," said Warner. "If the Fifth Circuit's decision, which could make every rule put forward by the CFPB unconstitutional, is permitted to stand, there will be financial chaos as all sorts of transactions governed by CFPB policies could grind to a halt, and consumers would be left without the protections they expect and deserve."
Since its creation in 2010, the CFPB has recovered nearly $15 billion in financial relief for customers.