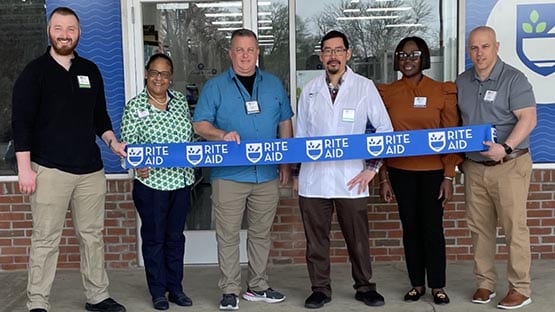 Rite Aid Corporation this week opened a Rite Aid Pharmacy in Scottsville, the third store in rural Virginia as part of a pilot program to improve access for pharmacy services in "pharmacy deserts" and underserved communities.
Locations in Craigsville and Greenville opened late last year and one more location in Grottoes is expected to open later this month.
These smaller format stores feature a full-service pharmacy and a retail assortment of health and wellness products.
The location at 144 Scottsville Center occupies approximately 2,500 square feet, which is smaller than the average 11,000 to 15,000 square-foot standard Rite Aid locations.
"We are proud to increase access to vital pharmacy services for this community, making it more attainable for people to get the medications and products they need to achieve whole health," said Bill Miller, Rite Aid's acting head of retail operations. "Pharmacists play a critical role in the wellness of our communities by helping individuals understand their health conditions and staying up to date on their medications and vaccinations. Our local pharmacy team in Scottsville looks forward to becoming trusted care advisors and helping to improve health outcomes."
The pilot program launched by Rite Aid to improve access to pharmacy services in underserved communities has been met with positive reception from local residents and leaders.
Related stories
Micro Rite Aid opens in Greenville, cutting travel time for filling prescriptions
Scaled-down Rite Aid opens in Craigsville to provide care to underserved community