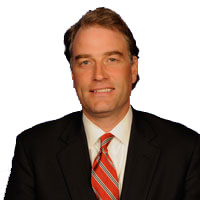 This past week, as our nation came together on Veterans Day to honor those who have served our country, I had the honor of traveling across the Fifth District and talking with many of Virginia's brave veterans. At Hampden Sydney College's 16th Annual Veterans Day Ceremony, I spoke with Longwood and Hampden Sydney's ROTC cadets, members of Charlotte County American Legion Post 260, and other Fifth District Virginians to commemorate the great sacrifices of all our nation's veterans.  On Tuesday, I was honored to participate in American Legion Post 74's Veterans Day Ceremony in Charlottesville and pay tribute to all of the veterans who attended, including three D-Day veterans.
As we take time to reflect on the liberties we all hold so dear, it is important to remember that it was our veterans, throughout the generations, who fought to preserve our way of life.  Throughout American history, our soldiers have courageously fought to preserve our freedoms, and for that, we will be forever grateful.  Their sacrifices, and the sacrifices of their families, have allowed us to enjoy a way of life we often take for granted.
As we work to address our nation's challenges, we do so with their sacrifices in mind and also the duty that we owe them for their service and sacrifice.  Unfortunately, we learned earlier this year that the promise we made to care for our veterans has, in many instances, not been kept.  To address several of the issues related to the Department of Veterans Administration's (VA) failure to care for our veterans, in August, the President signed the Veterans Access, Choice, and Accountability Act of 2014 into law to address structural problems within the VA.  This was an important first step, but I, along with my colleagues in the House, have continued our work to ensure that our bravest citizens receive the care they have earned and deserve.
This fall, the House also passed the VA Construction Assistance Act to address the VA's failures regarding construction of major medical centers, and require the VA to implement important construction reforms for major medical facilities.  The House also passed the Veterans Traumatic Brain Injury Improvement Act to ensure the success and transparency of a critical program involving assisted living services for veterans with traumatic brain injury (TBI).  These are vital reforms aimed at correcting the national shame that thousands of our nation's veterans have suffered due to the gross mismanagement at the VA, and I urge my colleagues in the Senate to consider these good bills. I will continue to work with my colleagues to ensure that our veterans receive the medical care they have earned and deserve.
We have also looked for other ways to improve the treatment our veterans receive.  As part of the Jobs for America Act, the House passed the Hire More Heroes Act, which incentivizes businesses to hire veterans by excluding them from the President's healthcare law's employer mandate threshold.  In September, the President signed the Veterans' Compensation Cost-of-Living Adjustment Act into law, which directs the Secretary of Veterans Affairs to increase the rates of veterans' disability compensation, additional compensation for dependents, and compensation for surviving spouses and children. I was proud to support all of these measures, and I remain fully committed to ensuring that our citizens who have given the most receive the benefits they have earned and deserve.
I am humbled by the opportunity to serve Virginia's Fifth District veterans, and I hope that you will join with me in continuing to thank all of those who have and continue to serve this great nation.
If you need any additional information or if we may be of assistance to you, please visit my website at hurt.house.gov or call my Washington office: (202) 225-4711, Charlottesville office: (434) 973-9631, Danville office: (434) 791-2596, or Farmville office: (434) 395-0120.
Robert Hurt represents Virginia's Fifth District in Congress.