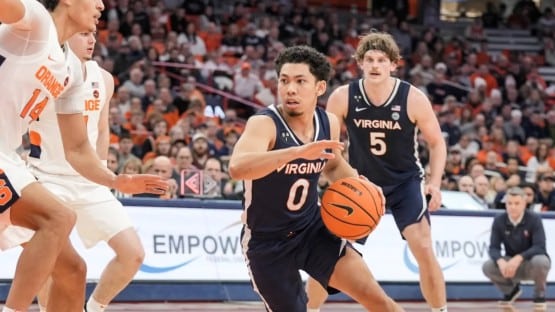 I wrote back in November that the ceiling for the Virginia basketball team this season could be as high as it was for the 2019 national title team.
Now, yeah, reality checks being what they are, I'm backing off that a bit.
I like this team, love it.
It grinds out wins in tight games.
When everything is going well, it can score, it can play lockdown D, it can beat anybody in the country, practically.
But it's missing something big.
Literally.
What's missing is, Tony Bennett doesn't have an answer at the five spot. And that's what's going to keep this team from making a deep run in March and then into April.
For background, Bennett went with Kadin Shedrick, the incumbent starter at center, for 14 of the first 15 games, and while Shedrick put up great counting numbers on the defensive end, and shot 68.1 percent from the floor, his limitations – he's not a good one-on-one defender in the post; and he's almost in the way on the offensive end – were clearly holding the team back.
And so, Bennett decided to make the switch at the five, going with Ben Vander Plas, who'd played the five spot at Ohio U., but was told when he was being recruited off the transfer portal that he would be used more at the four and even the three if he landed at Virginia.
Vander Plas, at 6'8", gives up height in the post, but he's an able defender down low, not the rim protector like Shedrick, but a much better one-on-one defender.
And then on paper, Vander Plas opens up the offense with his ability to knock down shots on the perimeter, and when he's at his best, he does just that.
Problem is, he has as many games in which he has scored four or fewer points (nine) as he has double-digit scoring games (also nine).
It's the old Vander Plus or Vander Minus problem, and of late, it's been a lot of Vander Minus – he's averaged 6.5 points and 5.5 rebounds per game over Virginia's last eight games, shooting 39.2 percent from the floor and 25.9 percent from three, with two double-digit scoring games and three games with four or fewer points in that span.
As Vander Plas has regressed, so has the offense, scoring 1.067 points per possession over that eight-game stretch, dropping the team's season-long points per possession number to 1.125, which ranks 51st nationally, according to KenPom.com.
Only one team in the KenPom.com era, which dates back to 2002, has won a national championship with that level of offensive metrics – the 2014 UConn national title team, which averaged 1.114 points per possession in the 2013-2014 regular season, ranking 57th nationally.
That's the reality check.
The profile that we're seeing from this Virginia team just doesn't look like a team that can cut down nets in Houston in April.
Which isn't to say that all hope is lost.
There's a lot for this Virginia team to still accomplish.
For starters, adding another ACC regular-season title. Virginia is currently 13-3 in the ACC, a half-game ahead of Miami, a full game ahead of Pitt, with four games to go.
A regular-season title would be a nice feather in the cap for this group, which is largely composed of guys who last year didn't even get an NCAA Tournament bid, their season ending in the third round of the NIT.
Bringing home an ACC Tournament trophy would be another nice reward for this year's team. To do so, Virginia would likely have to get a win over at least one of the teams that it has lost to in conference play to this point, Miami and Pitt, maybe both.
And then we get to March Madness, and the pressure is off.
I think a good goal for this group is to aim to get to the Sweet 16, and of course, once you get that far, you're two games from Houston, anything can happen.
I write this to advise fellow Virginia basketball fans to lay off the wailing and gnashing of teeth about how the team is playing, and what it means for next month.
This team is a good team, a borderline great team, but it's not a team that anybody outside of the diehards think is a legit national title contender.
Whatever, then, the guys end up doing, enjoy it.