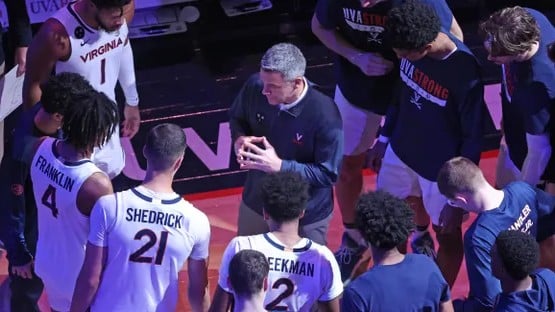 The response I'm getting from readers on the Reece Beekman news this morning is that UVA coach Tony Bennett is getting a second chance to make things right.
The general consensus from the people who have my ear is that Bennett mismanaged the 2022-2023 team by playing favorites in the form of going with Ben Vander Plas over Kadin Shedrick at center down the stretch and by using Kihei Clark over Reece Beekman as his primary point guard.
I think that assessment is a bit harsh, personally. Virginia spent most of the 2022-2023 season in the Top 10, won a share of the ACC regular-season title for the sixth time in 10 years, and, OK, yeah, got bounced in the first round of another NCAA Tournament, but 25 wins and a banner is not a bad winter.
But it could have, and maybe should have, turned out better, which is why folks are only cautiously optimistic about next season with Beekman back in the fold.
I have to admit that I didn't expect Beekman to return, both given how he'd worked himself into being a likely mid-second-round pick in this month's NBA Draft, and how Beekman had clearly been put off by Bennett's handling of Shedrick, who hit the transfer portal after the season and ended up at Texas.
Shedrick offered several pointed criticisms of his mid-season benching on his way out the door, and Beekman, speaking to 247Sports reporter Isaac Trotter at the NBA Draft Combine, made it clear he had his former teammate's back.
"I feel like he spoke his mind. Anything he said, he was justified for. I will back him up 100 percent because I agree with what he said. I'm happy for him. I'm happy to see him in a new situation," Beekman said.
I've written extensively about the Shedrick situation, to a point where his name merits its own section on our website.
The sum of the thousands of words I've put into the interwebs on the Shedrick situation is – he was putting up solid numbers up until the time he was benched, his effort at times in games and particularly in practices was questioned by coaches and some teammates, Vander Plas was effective at first, then less so over time, I don't blame either side on this for feeling the way they do, it was probably best for all that Shedrick moved on.
Bennett and his staff did a bang-up job dealing with the fallout from the tumult of how 2022-2023 ended, with not only Shedrick hitting the portal, but Isaac Traudt and Francisco Caffaro also leaving via the transfer route, and Armaan Franklin deciding to hit the NBA Draft despite not having any real prospects for hearing his name called.
Those losses, on top of the losses of Vander Plas, Clark and Jayden Gardner to the end of their five years, left the cupboard bare, briefly, but Bennett was able to land two 17+-point-per-game scorers (Andrew Rohde, Jordan Minor) off the portal, along with another top-notch point guard (Dante Harris) and a stretch-four (Jake Groves).
Those four, plus incoming four-star big Blake Buchanan, and returnees Isaac McKneely, Ryan Dunn, Taine Murray and Leon Bond, are a solid nucleus.
With Beekman back in the fold, I think the 2023-2024 'Hoos are a legit national-title contender.
But before we can think ahead to cutting down nets, there's some damage control to be done.
There was some perception inside and outside the program that Bennett went (and stayed) with Vander Plas over Shedrick because of his ties to Vander Plas' father, Dean, who played at Green Bay with Bennett under Tony's father, Dick.
Whether or not that is true or fair or not doesn't matter in the end, as Beekman's comments about Shedrick being "justified" when he "spoke his mind" and being "happy for him" that he left for Texas might attest.
Then there's the matter involving Beekman himself, and how Bennett uses him. He projects as a point guard at the next level, but Bennett used him as Clark's running mate for three years, perhaps limiting Beekman's development.
Both Harris and Rohde have played point at the college level, which is a nice luxury to have if you're Bennett – having three guys who can run the team and create off the dribble – but ultimately, the coach is going to need to decide who's team this is.
It should've been Beekman's team last year; for it to reach its potential in 2023-2024, it needs to be Beekman's team next year.
This is where we get to the notion of Tony Bennett getting a second chance to make things right from last season.
Bennett has as much talent on next season's roster as he's ever had.
How close his team gets to its potential isn't as much about x's and o's as it is about human resources.