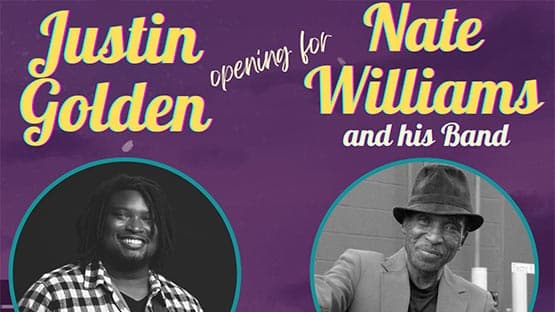 The new Upbeat Downtown Concert Series at Court Square Theater presents rhythm & blues soul legend Nate Williams as part of Black History Month.
The Friday, Feb. 24 performance will also showcase bluesman Justin Golden.
"This concert offers a chance for our community to celebrate Black History Month with some great music," said CST Managing Director J.P. Gulla. "Nate Williams and Justin Golden will truly bring a night of upbeat music to downtown Harrisonburg."
Williams has been writing and producing his own R&B and Soul music since 1973. His first songs, She's A Woman and You Doing Wrong were on the Pick Hit of the Week. His Rocking and Reeling (with Ruby Williams) also made the charts, and his last CD, Ride With Me, remains popular today. Williams continues to create music; his songs are popular on a variety of streaming channels.
Richmond-based guitarist and songwriter Golden has roots in the Mississippi Delta, Chicago and the Virginia Piedmont; origins deeply vested in the blues. First picking up the guitar at age 19, Golden did what came naturally and let the music flow through him. With an extremely diverse musical palette, Golden aims to bring some new ideas to traditional blues forms. In addition to his work as a recording and performing artist, Golden maintains a busy teaching schedule and works with the non-profit The Rhapsody Project to provide community enrichment through anti-racist cultural heritage programs.
Court Square Theater is located at 41-F Court Square in downtown Harrisonburg.
The show will begin at 7:30 p.m. Tickets are $25 in advance or $30 at the door.
Tickets are available online at courtsquaretheater.org