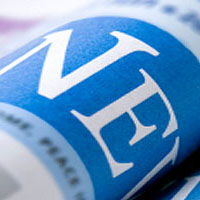 Legislation proposed by Staunton Republican Del. Dickie Bell would give local governments in Virginia flexibility in advertising public notices outside current requirements to pay to publish the notices in local newspapers.
Bell's HB 1438 would allow for publication on a local news website, the local government's website, a public-access channel maintained by the local government, automated voice- or text-alert systems used by the locality and posting at the local public library.
According to the language of the bill, local governments would be required to use at least two of the above means in the place of required legal ads in local newspapers.
The Virginia Press Association, as could be expected, is leading the fight against the legislation, not saying this specifically, but we all know what's at stake for newspapers: dollars. The state law requiring local governments to post public notices in the form of paid ads is effectively a legacy subsidy for newspapers, which as we all know are struggling financially, and have been for years, with readers fleeing print dailies for online news, and advertisers following suit.
Dollars are also at the root of the continued push from local governments to get out from under the state-law requirement to publish public notices in paid newspaper ads, which are expensive both in real dollars and then even more so on a cost-per-thousand basis with fewer people reading the newspapers that they're forced to advertise in.
The reason this move didn't happen years ago is logical when you think about it: declining though their influence is, newspapers still carry some weight with their readers, and they're not afraid to use it, in the form of front-page articles and editorials whenever the public-notice gravy train is threatened. Bell's bill is the latest in a string of proposals from lawmakers in Richmond, and it's usually the case that the bills that propose change in the system fail to even get out of committee.
And that's saying something, because the push of late has come from House Republicans, who are not exactly enamored with or at all beholden to, ahem, you know, the folks in the liberal media who run newspapers.
Republicans hold 60-plus seats in the House, could kneecap what they see as a rival force, and yet … nothing happens with the push to give local governments flexibility to work around public-notice ad requirements.
Meaning we shouldn't expect anything to happen again this General Assembly session.
That's not necessarily good news for taxpayers, who are the ones who get to foot the bill for public notices in the fine print in the back sections of newspapers that few of them are reading, and only a few of those who are will ever see.
– Column by Chris Graham