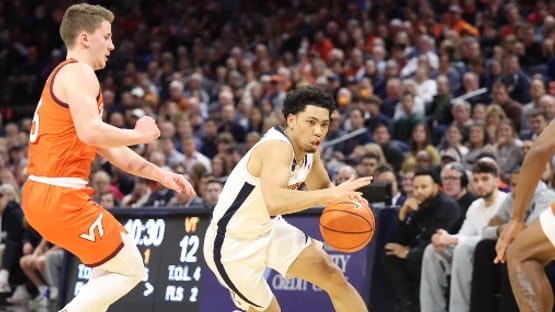 Virginia got what looked, from the 78-68 final score, like a nice, workmanlike win over Virginia Tech in their first matchup two weeks ago.
It wasn't easy.
UVA, which has now won seven straight, led just 59-55 at the under-eight timeout, ahead of a 59-seecond flurry coming out of the timeout that pushed the lead into double digits, and it wouldn't get closer than eight the rest of the way.
The Cavaliers (17-3, 9-2 ACC) shot 50.9 percent on the night, but the Hokies (13-9, 3-8 ACC) shot 49.1 percent, and connected on 12-of-27 (44.4 percent) from three.
The issue for Virginia Tech, which is very much a team on the brink, in terms of its NCAA Tournament hopes, has been on the defensive end.
Tech has surrendered 1.070 points per possession in ACC games, according to KenPom.com, a big reason the Hokies have lost eight of their last 10.
In their 92-83 loss at #23 Miami on Tuesday, the 'Canes shot 58.3 percent, and broke open a close game late with a 17-point flurry by guard Nijel Pack, who had five threes and a layup in a 5:09 stretch coming after the under-eight timeout.
Tech Notes
Hunter Cattoor, who had 11 points and five assists in the teams' first matchup on Jan. 18, after having missed the previous four games with an elbow injury, is averaging 18.3 points per game and has gone 14-of-26 from three in his last three games.
Grad transfer forward Grant Basile has been putting up bonkers numbers of late on the offensive end – 19.5 points and 7.2 rebounds per game over his last six, going over 20 points three times, twice against Syracuse and once in the win over Duke.
Justyn Mutts, the 6'7" super senior, is a box score stuffer. Mutts averages 12.7 points, 7.4 rebounds and 4.4 assists per game. And he does what he does quite efficiently: shooting 57.8 percent from the floor and 40.0 percent from three. Mutts had 10 points, six rebounds and seven assists in the Hokies' loss in Charlottesville last month.
UVA Notes
Jayden Gardner, a 6'6" super senior who was Virginia's leading scorer and rebounder last year, had been averaging 6.2 points and 2.7 rebounds per game over a six-game stretch leading into me predicting his benching, that stretch culminating with his somnolent five points and two rebounds in the win at Wake Forest on Jan. 21. In his last two: he had 18 points on 8-of-12 shooting and six rebounds in the win over Boston College on Saturday, and then 17 points on 6-of-11 shooting and eight rebounds in the win at Syracuse on Monday.
Virginia's two-headed point guard monster, Kihei Clark and Reece Beekman, has been putting up oddly similar numbers in the current winning streak. Over their last seven games, Clark is averaging 10.3 points and 6.3 assists per game; Beekman is averaging 10.1 points and 5.6 assists per game.
Freshman Isaac McKneely only shot the ball four times Monday night. Good news, he made two of them, both threes. In the seven-game winning streak, he's now 16-of-29 (55.2 percent) from three-point range. In the streak, he's averaging 8.8 points per game on 5.7 shots per game.
Projections
ESPN BPI: Virginia +1.6, 56.9% win probability
KenPom: Virginia 67-66, 54% win probability
EvanMiya: Virginia 67-66, 53% win probability
Bart Torvik: Virginia Tech 65-64, 51% win probability