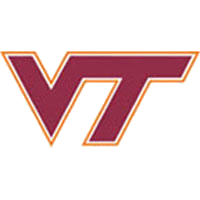 Virginia Tech football coach Frank Beamer talks with reporters on Monday. Virginia Tech (2-2, 0-1 ACC) hosts Western Michigan (2-1) on Saturday.
Opening Statement: If you go back since the bowl streak started, I think three times we started out 2-2 and each of those years we won at least 10. I know we started out 0-2 and ended up winning the sugar bowl against Texas. Last time we started out with a conference lost, we won the next seven conference games. So, history's been good to us, but, as I told our football team yesterday, we've done it in the past but we can't assume it's going to happen again. We're not a good football team right now. We have too many penalties, too many mistakes, too much not coming up with a play. We can be a good football team, and it's up to us to get there. We're not there right now. I think everyone fully understands that.
I think Brewer played his best football game other than three plays, but you've got to count every play. I thought our kids played extremely hard. As you look at the video, there are so many times we could have won the game, but the bottom line is that we didn't. You've got to give Georgia Tech credit because they did.
Are you looking at replacing Brewer at all this week? Is there a competition?
Well, there is always a competition. Brewer played a great football game. Probably his best football game since he's been here, but the three mistakes hurt deeply. We do have great confidence in Mark Leal. We'll see how they practice this week, and we'll see what the deal is at the end of the week. In my mind, Brewer just needs to eliminate three mistakes.
After looking at the film on the illegal substitution penalties, do you know what happened and what can prevent those from happening more?
Lack of concentration. We send our package in. We need to call it when we go out. We need to pay attention and be looking for the signal. There's no excuse for things like that. We'll get it corrected.
It looks like Luther knew about his meniscus tear heading into the game Saturday, what does that say about him going against a team that's going to be going for your legs quite a bit?
Luther's a tough guy. He's a team guy. A Tough guy who's hard to handle in there. He gives it his very best for the football team. I really like Luther Maddy. There are a lot of guys on our football team who play through injuries and play through pain. That's just part of the game. Like I said, Luther's got a lot of toughness to him – mentally tough, physically tough.
Where do you see Trey Edmunds now? You've obviously got a couple of great running backs ahead of him, where does Trey figure into that group?
He figures in terrific on kickoff coverage. We may try to get him some more special team's work cause he's an athletic guy. We haven't talked about it lately, but even on the two runs, I didn't see the burst he's had in the past. I think it's a tough injury to get to 100%. I love his attitude and I love the way he goes about business. He'll be back to 100% as soon as he can. I know that.
With Luther's departure, how does that impact the defensive line going forward?
You miss a guy like Luther, there's no question about that. It is what it is. Baron came in there and played well. Corey Marshall is certainly another guy. Nigel Williams is going to get a chance to step it up. It gives a lot of guys a chance to step it up.
Would you consider playing Vinny Mihota at this point, or just redshirting him?
We'll see where we are at the end of the week. That is usually a Thursday discussion. I think if it looks like we'll play a guy a lot, we'll entertain that idea, but I think we need to see where we are health-wise at the end of the week.
What did you see on the play where they blocked the field goal?
We've got to do a better job of getting our hand on that guy coming off the edge. Fundamentally we weren't good at the tight end slot position. We'll get that corrected. That cost us. Generally speaking, when we block a kick, field goal or punt, we win the football game. It worked in the reverse against us. I told you we're not a good football team right now, but we're going to be. We're getting ready to be.
What do you see out of Western Michigan this week?
The offense averages 31 points a game and a lot of yards – 515 I believe it is. The team is very capable. The issue right now, regardless of who we play this week, is Virginia Tech needs to get better. They are certainly a very capable team coming in here, but Virginia Tech needs to get better.
What has been your message to your team right now and what have you seen mindset-wise?
I've said since we began, I thought we were going to go through some growing pains. I'm not used to going through growing pains two weekends in a row. As a football team we did get better. You're not going to hear me say again "this team could be a good football team." It's time to be a good football team.
Is the guy's confidence shattered or shaken?
I don't think that. I don't know how many times it was said yesterday, just look what would have happened if you had taken your responsibility. We've got smart kids, they can figure out and see it. Part of it is playing an unusual offense you try to get ready for in a week, but that's not an excuse in my estimation. It's something we knew how to do. We just didn't perform well enough as a football team.
Does Ryan Malleck's injury look like something that is going to be ongoing or is he going to be back this week?
He feels like he'll be back. He's another really tough guy, and a guy that we really miss. He's a glue kind of guy: he keeps things holding together and he makes big plays. We miss him on third down. He wants to be back and he feels like he will be back. We'll know at the end of the week.