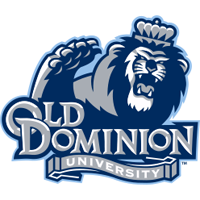 ODU football coach Bobby Wilder talks with reporters on Monday. ODU (3-2) faces Marshall (4-0) on Saturday at noon.
Good afternoon everybody! Good afternoon to all of our 1wth Monarchs out there in Monarch Nation. Coming off a 41-28 loss at home versus Middle Tennessee. First order of business is a big thank you to all the fans and everybody at Old Dominion for what was an awesome experience for our players. Being in our first home Friday night game, national television game. I thought the performance by the fans was definitely a winning performance, so thank you very much for that.
The story of this game was the three turnovers on the first five drives that we had during this game. That put is in a big hole. We dug ourselves a 24-0 hole, and I give a lot of credit to Middle Tennessee. They had a lot to do with that 24-0 hole with the turnovers and then the punt return they had out of our offensive set that they returned for a touchdown. But, I loved the way we battled back. We got it to 24-7 right before the half, and then three times in the second half we cut the lead down to 10 at 24-14, 31-21, and then finally at 38-28. So we kept battling, but being down by 24 was just too much to overcome, but I'm very impressed with how our team fought throughout the 60 minutes in this one.
Starting with our special teams, overall we were poor in this game. Our kickoff and kickoff return units didn't help us enough with field position. Middle Tennessee's average drive start was their 35, and ours was on our 22 yard line. When you're playing a team that's as good as Middle Tennessee, that 13-yard difference makes it very challenging. Our freshman punter Jarrrett Cervi was solid. He averaged 40 yards punting in this game.
Defensively, I thought the first quarter was outstanding. They had two stops in sudden changes situations. The first one after we threw the interception on the first play of the game. Middle Tennessee got the ball on our end and they forced the punt. Then the second one after the fumble; Middle Tennessee drove and we caused a turnover, T.J Ricks stripped the ball carrier. So in both of our initial two turnovers, the defense got big stops in sudden change.  They had a drive after that, a 10-play 66 yard drive where we held them inside our 10 yard line, forced a field goal. Then they had a drive off of the dropped pass by Nick England that they intercepted, a two-play 27-yard drive. That put them up at that point 17-0. Their next drive was another short field. Our offense got three and out, we had a short punt, they went 53 yards to go up 24-0. The turnovers in the first half, and the field position put our defense in a bad way. Probably the most difficult part was the fact that they were on the field for 47 snaps in the first half. Just a huge play differential up until we had that drive at the end of the first half. Our defense was tired in that first half.
Offensively the three turnovers early in the game, then the punt return that they had for a touchdown. This all happened within our first six drives. We had the turnovers, the punt that we didn't wrap up. But I'm really proud of the way we regrouped our last seven drives on offense. We scored four touchdowns in this game. So once we got going, we played solid football offensively; I just wish it would have been a little bit sooner. When you fall behind by that much, 24-0 early, then it becomes just throw game. From that point ton we were chasing points the rest of the game. So  now the run game is ineffective. Middle Tennessee was able to pin their ears back in their defensive line, linebacker blitz game. That's what lead to the six sacks and the number of times Taylor got hit because we were just so far behind we ended up chasing points the rest of the football game.
Speaking to this week's opponent Marshall. They're 4-0 under Doc Holiday who is an outstanding coach. He's built this program up to an outstanding program. I think this is the best team we've ever played, and we've played some good teams. Last year we played East Carolina, Maryland, Pittsburgh, and North Carolina. So far this year NC State, Rice, and Middle Tennessee, but I think this team is clearly the best team we've ever played because they are the most complete team in all three phases of what they're doing. Offensively they're averaging 46 points a game, and averaging 600 yards. That 600 yards is amazing enough as a number, but the balance they do it with, with 290 rushing and 310 passing, is very impressive. Their quarterback Rakeem Cato is preseason Conference USA player of the year. They've got four running backs they're playing right now, and they all average over six yards a carry. Thirteen different guys at receiver, lead by Tommy Shuler who is one of the best in the league.
Their offensive line is the beast offensive line, on film at least, that I've seen that we'll play. We've played some good ones, NC State was good, Rice, Middle Tennessee, but I think these guys are better. Defensively they play like they're mad at you. They play like they've got a very bad attitude, and bad intentions on defense. I say that jokingly but this is clearly the most aggressive defense that I've seen, their style of play. It starts up front with the defensive line. They've got the preseason player of the year in James Rouse at defensive tackle. Their defensive end Meyers is an all- Conference USA preseason selection, and that's really where it starts for them. Their aggressive style that they can play throughout their defense is because of how good their defensive line is. At linebacker, they have a C-USA player, as a group those starting three are averaging about 20 tackles a game, which is what you want to see when you've got an aggressive defensive line that eats up the offensive line and that frees up your linebackers. Schematically they do such a good job with the d-line and that allows these linebackers to be great players. The secondary is the most aggressive secondary we will have played against. They're in your face playing aggressive man coverage that is their style. They play like they
Don't have any fear. They've got four interceptions so far this year, and more impressively they've got 21 pass breakups. They're getting their hands on the football. They're aggressively playing man coverage, and attacking people with that. Their first four games that they've played they've outscored their opponent 103-6 in the first half. I've never seen anything like that, the game is literally over by halftime in all four games they've played, and those six points were tow field goals, nobody has scored a first half touchdown on these guys.  They're clearly the best team we've played in our brief history, and it's going to be a major challenge on Saturday.
Q: Bobby what separates their quarterback, Rakeem Cato?
A: His ability to process information. He is similar to Taylor Heinicke in that he makes very good decisions. You know they will call a pass play and if its not there he won't throw it into coverage. He'll tuck it and run or he will throw it away. And then in the run game he is very deceptive.  When they run the zone read play, if you don't honor him, he will take off and run. He's got a 60-yard touchdown run this year. He makes some big plays with his feet, but it is definitely his decision making. He is a very good decision maker.
Q: Bobby your offensive line was kind of beaten up coming into this game, and you lost Josh Mann in the fourth quarter. So you are down three offensive linemen and only have two that started the season. Any chance of any of those guys recuperating and coming back this weekend?
A: Yeah, well I am hopeful. We got some good news after the game about Josh. It is just a sprained ankle. So I am hopeful.  He is probably not going to be able to practice much this week, if at all. But I am hopeful he'll be back for game time.  Troy Butler and Eli Anderson are still a week or two away.
Q: You talked about how it turned into a passing game after they got out to a big lead, was that all that was wrong with your running game? I think you praised your offensive line after the game Friday night but you also said we didn't block well enough to run. Are you concerned about your running game?
A: No. Because when you're down 24-0 you are trying to score quickly. And that's what we were trying to do; to score quickly in that game. That is what ended up happening; it turned into a throw game. If it's a closer game, like it should have been. It should have been a closer football game with as well as our defense was playing in this game early, this should have been a closer game. But if it was a closer game then we are more committed to the run, the play action pass off the run, but when it is 24 to nothing you are trying to get back in the game as quick as you can. We were throwing the ball well, and catching the ball well. Guys were running the routes really well. Antonio Vaughan had a super game. They couldn't cover him. So because we were trying to get as many points as quickly as we could we went strictly with the pass game at that point. But I am very confident we can run the ball. You know we have proved we can run the ball and we will get back to that. We need to be a balanced team, but when you fall behind that quickly you've got to try and get some points.