Augusta Free Press editor Chris Graham will be courtside for the 2013-2014 season opener between #24 UVa. and James Madison University.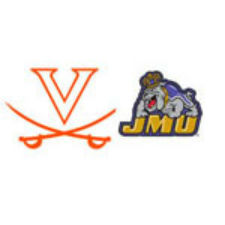 The tip is at 7 p.m. The game is being broadcast on ESPN3. Join Chris for live score and stats updates, commentary, analysis and more.
Game Notes
UVa. finished the 2012-2013 season with a 23-12 record and an appearance in the NIT. Seniors Joe Harris and Akil Mitchell headline a list of nine returning letterwinners. In 2012-13, Harris averaged a career-high 16.3 points and Mitchell added career bests with 13.1 points and 8.9 rebounds per game. JMU is coming off of its first Colonial Athletic Association tournament championship since 1994 and its fifth overall NCAA Men's Division I Basketball Tournament appearance. The Dukes are returning seven players from last year's championship roster, including Andrey Semenov who missed most of the 2012-2013 season due to injuries, as well as standout sophomores Ron Curry, Taylor Bessick and Charles Cooke. The Dukes, the defending CAA Champions, were selected to finish seventh in the CAA preseason poll this year out of the nine teams in the conference.
First half
Pregame observation: Biggest crowd I've seen here for a season opener since the JPJ opener against Arizona in 2006.
Fast pace for the plodding Cavs: A new look for this team with additional firepower from the return of Malcolm Brogdon and the addition of transfer Anthony Gill.
Lull: Timeout UVa: 5-0 JMU runs cuts the lead to 13-10, 13:11. Virginia settling for too many long jumpers.
The pace is fast, but … Virginia is settling too much for jumpers. Virginia has a size and skill advantage. Need to start playing like they're the better team.
Pretty damn close to a sellout: Only a few empty seats in the upper deck. Impressive.
Still settling: UVa. leads 19-11 at the under-8 TV timeout. The game has turned ugly.
Plod: Virginia leads 23-11 at the under-4 timeout. This one resembles hockey more than basketball. Virginia scored five points in the first minute. Since … it's been a struggle to get any kind of flow.
Half: UVa. 32, JMU 14
Halftime stats
UVa.: 12-27 FG, 3-11 3FG, 22 rebounds. Leading scorer: Malcolm Brogdon with nine points (3-4 FG).
JMU: 5-25 FG, 3-14 3FG, 14 rebounds. Leading scorer: Tom Vodanovich with six points (2-4 FG).
Notes: Joe Harris just two points (1-5 FG). Harris, Brogdon and Darion Atkins each have five rebounds.
Second Half
First media timeout of the second half: UVa. 37, JMU 21. Poor pass by Brogdon in the lane back in the general direction of Harris. Need better decisions from your point guard there.
6-0 UVa. run: Virginia leads 43-21. Defense is the key here. JMU gets nothing easy.
Under-8 media timeout: Virginia 51, JMU 29. Workmanlike effort.
Under-4 media timeout: "Sweet Carolina" blaring, UVa. leading 59-37. Fans heading home.
Final: Virginia 61, JMU 41.
Final box score: Click here.
Team Notes
• Virginia is now 9-0 all-time, including a 6-0 mark at home, vs. JMU
• The Cavaliers are now 5-0 in home openers under head coach Tony Bennett
• Virginia is 15-1 in its last 16 season-opening games
• Virginia is now 46-12 against teams from the Commonwealth of Virginia since 1999-2000
• The Cavaliers posted their first win as a ranked team since March 4, 2012 (Maryland)
Player Notes
• Malcolm Brogdon tallied nine points and six rebounds in his first action since Feb. 25, 2012
• Brogdon matched a career-high with three 3-pointers
• Anthony Gill had 13 points in his Virginia debut
• London Perrantes had two points and two steals in his collegiate debut
• Darion Atkins matched a career high with 11 rebounds
• Jeff Jones and Maleek Frazier made their collegiate debuts
Quotes
Virginia Head Coach Tony Bennett
On highlights of the game:
"We got some offensive rebounds and some advantages, like touching the paint. I thought in the second half we guarded a little better in terms of contesting shots. I think the first half we were very impatient, the shot selection was poor, and they got a lot of open looks. They [JMU] ran some good stuff to get their guys open; Coach [Matt] Brady does a good job of getting his guys open. I thought we were a little lost, but we learned from that and will certainly have to play better."
On Anthony Gill:
"He did some nice things. He is aggressive, and he draws fouls. We have got to cash in at that free throw line and we didn't shoot the three ball well or the free throws, but you saw him, he is aggressive, he draws contact, he plays through contact and goes for the basket. We saw that for sure."
On Malcolm Brogdon:
"I thought he was very good early on. He was a steady force for us. He knocked down some shots and made some plays. I thought in the second half he showed some rust, he got in trouble, got up in the air, and got lost. I thought defensively he was getting a little flat footed and gave too much cushion, but then he picked it up. All things considered, it was good to have him out there. He is such a strong player and he knows what is going on. I expected some rust, but the way he got us off to that start was great."
On JMU defense:
"They were unconventional in the way they guarded us, by switching from man-to-man to a zone. They kept changing things up and we couldn't quite get comfortable and I thought that that was smart on their part. We finally got a beat on it and it was good to see some of those guys get out there. I was hoping Thomas [Rogers] would get a bucket, but hopefully we will have another day for that."
On playing London Perrantes: "The plan is to redshirt Devon [Hall]. Right now, I am comfortable with a nine-man rotation. That doesn't mean we wouldn't go 10 and it doesn't mean that foul trouble couldn't make that change. London was out for three weeks with a shoulder injury, but he showed some nice things before that, then after that, and in the scrimmages. He doesn't get sped up. Now, that will be tested in our next outing, in terms of keeping his composure and not getting sped up, but he certainly has a natural feel for that position and I thought he did some things in that first outing. He got taken advantage of a little bit in the post, but, again, showed composure and has worked well."
On playing their defense:
"Our shot selection early everyone took the first chance they got, there were some open looks and they just let it fly. We almost didn't get a chance to get established on the glass and we said let's just rotate the ball and get on the paint. We had a size advantage. I didn't do a good job early on thinking, "Are they running a zone or a man?" We called too many things and our guys weren't too steady. Then we decided we would just be simple and just run what we have been doing and look to touch the paint."

On distributed scoring: "I think we are a more balanced team this year. Guys will get shots and I am hoping they are going to fall. I am not going to say we are a great shooting team, but we have guys who can get it going and I think that can open up the game."
JMU Head Coach Matt Brady 
On game:
"Tony [Bennett] and his staff did a tremendous job. They're outstanding defensively in the country and it is very difficult to get penetration of any kind on them. For a while there, about nine or 10 minutes, we were hanging around and I thought we were doing what we wanted to do defensively, but we could make any shots. So, I will give them some credit, but I thought we missed some open shots that could have made the game a little tighter and put a little pressure on them. I think the difference in the game was their size and strength."
On Malcolm Brogdon's return:
"His return didn't surprise me, but it may have surprised some of the guys. I know he is a good player and we told our guys when they came out with the lineup that we weren't sure whom they were going to play at point guard, but I thought that added to their scoring. Tony has a lot of guys that are going to help them figure out how to have a great season."
On missed opportunities:
"I thought we had a combination of very difficult shots that you can't have when you're on the road and want to beat a quality team. Then, we had some open shots that we missed. I thought we defended them as well as we could with our match-up zone. We had six or seven possessions where we were taking difficult shots and we have to get beyond that, and I hope that we do. The combination of difficult shots, open shots, and not making shots, then you will struggle with a team like this."
On avoiding offensive droughts:
"We have to play really smart. I said to the team that we, at JMU, have to be able to play with each other and share the ball. We have a team that is willing to share the ball, but we haven't learned how to do it against outside competition just yet. I think the guys need to take advantage of the situation and it's just not how you want to play winning basketball. This was a good learning experience for us. As a coaching staff we will look at the tape and get better from it."
On Andrey Semenov:
"When Andrey takes good shots, he's as good of a four-man as there is. The question is: is he going to play the way we need him to play, and if he does he will help us become a really good team. I think shot selection is a big deal. We're going to play together, and we need everyone to do that. Andrey is going to have some nights where he has good nights and there will be other nights where teams are going to guard the heck out of him. So, we will still be in the game with a chance to win."
On shot distribution:
"We thought that Taylor Bessick would play for more than nine minutes. I think the rest of it is fairly fair. I think that Ron Curry and Charles Cook should be nine or 10 shots a game, but I think beyond that it's fine. We need a couple of these guys to come of the bench and make some shots to help us there."
On physicality:
"Well, it's a learning experience. To be honest with you, this is a really good team with a bunch of older guys that fly around in the lane. We could talk about it but when freshmen are playing other freshmen on the court, or freshmen playing against sophomores, it's not the same thing as playing outside competition. We have not responded well when we have played outside competition in terms of physicality. It will be a learning curve with this group."
On perimeter shots:
"We're going to get better at that. I think we will get to a point with the length of our guys where we can drive the ball. The issue is that trying to drive the ball against Virginia is an uphill battle. Tony's [Bennett] teams are always so good defensively, especially in penetration."