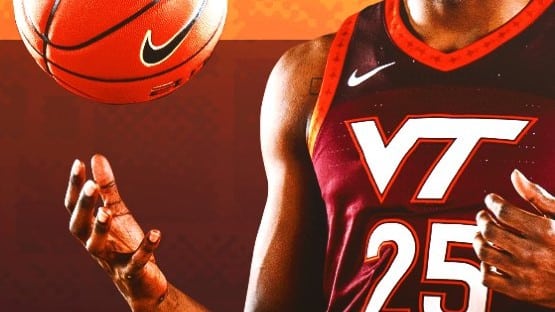 Virginia Tech has a big opportunity to try and get its season back on track with a game on Saturday at the Atlantic Coast Conference leader, Clemson.
The Hokies (11-7, 1-6 ACC) have not won a game in over a month and already lost to the Tigers (15-4, 7-1 ACC) once this season, 68-65 in Cassell Coliseum on Jan. 4.
That was a game where star senior Hunter Cattoor did not feature due to his elbow injury, missing five complete games before making his return on Wednesday in the loss at Virginia.
The talented veteran ended up having a fractured elbow, an injury that did not see him need surgery or let alone a cast. But in the game against Virginia, he scored 11 points, tied for a team-high six rebounds and recorded five assists in 34 minutes. All five Tech starters scored in double figures, and they showed more fight than they had in recent games, boosted by Cattoor's return.
But there were even more positives in the loss to the Cavaliers with the Hokies scoring 68 points against them, the most any team has been able to since then No. 1 Houston scored 69 in a victory in Charlottesville earlier in the season.
That offensive production is an encouraging sign for a team that has lacked much of anything to get excited about, and while Cattoor admits he is not 100 percent healthy, he and his team appear encouraged by the signs they show last time out.
"Obviously, it's never fun losing, and losing six straight doesn't feel great," Cattoor told the media on Friday. "But the mindset is the team. You can't break apart. A lot of times when you start losing, people think they've got to do more and there start to be cliques in the locker room and stuff like that, so the biggest thing is just keeping the team together."
Tech had been so cold from three in recent games, but that changed at JPJ Arena. While the Hokies shot just 15.8 percent from three in their loss at Syracuse the game before, Tech was nearly 30 percentage points better, going 12-for-27, a clip of 44.4 percent.
Darius Maddox, Tech's sharpshooter who had 13 points in that game, said having Cattoor back just opens up the floor for other players because of the respect he commands from the defense. Cattoor knows the signs were better in Charlottesville, and now they have to build off of it.
"I think our team played a lot better offensively [at UVA]," Cattoor said. "I think the ball was moving a lot more, our assist-to-turnover rate was a lot better than it's been in the past couple of games. Defensively, I think we still need to take a couple steps up with that. But I think overall, we played pretty well … I liked the way we fought.
"We took a lot of bad shots that game, and in our offense, if you take a bad shot, that's like a turnover for us with our play style … We know who we are as a team, we know we're better than what our ACC record is, and at the end of the day, we're just going to have to play better out there."
Tech tips off at Clemson at 6 p.m. ET on Saturday.
"We've got to be a little bit better offensively, we've got to be better defensively and put a full 40 minutes together to win a game."