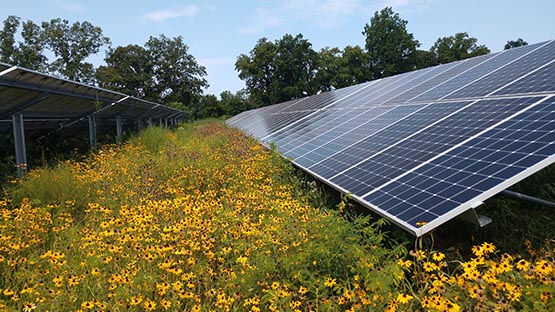 Solar energy facilities designed to support bees, butterflies and birds are taking hold in Virginia through an innovative program to improve biodiversity.
The state's voluntary Pollinator-Smart program, launched in 2019, encourages pollinator-friendly solar development with a scorecard and rating system.
The pollinator-friendly solar program, developed by the Department of Environmental Quality and the Virginia Department of Conservation & Recreation, provides guidelines for designing, building and monitoring solar installations that provide habitat for native pollinators, lessen stormwater impacts and improve the visual appeal of the projects.
The Virginia Department of Wildlife Resources is also a Pollinator-Smart team member.
Choose native plants
Among the key recommendations is to use native plant species, rather than non-native turf grass that requires frequent mowing.
"Planting species native to Virginia – whether at our state parks, on a solar energy facility, or in your backyard – helps to preserve the Commonwealth's special natural heritage and biodiversity," said DCR Director Matthew Wells.
Pollinators are in decline throughout the U.S.
"Virginia has an opportunity here with the growing demand for solar energy to maximize the benefits of this landscape change to increase the amount of pollinator-friendly habitat statewide," said DEQ Director Mike Rolband. "We need to grab this opportunity now as this landscape transformation occurs."
Halifax County: Second facility certified Pollinator-Smart
Foxhound Solar, developed by Longroad Energy, recently earned certification for its proposed 83-megawatt solar installation on 600 acres in Halifax County.
Foxhound plans to plant native grasses including Southeastern wildrye, native Oxeye sunflower and other wildflowers in areas surrounding the solar arrays.
It is the second solar facility to be certified Pollinator-Smart in the Commonwealth.
"Longroad is proud that Foxhound Solar is the first large-scale solar project to be Virginia Pollinator-Smart certified," said Deron Lawrence, senior director, Natural Resources, Longroad Energy. "Longroad is committed to enhancing biodiversity at projects where pollinator habitats can be planted."
DWR's Wildlife Action Plan recognizes the importance of open space for wildlife.
"In fact, Halifax County is recognized as a priority area to improve open space habitats to provide benefits for Species of Greatest Conservation Need including seven species of bumblebee, butterflies (monarch) and numerous birds (bobwhite quail, eastern towhee and field sparrow)," said Becky Gwynn, Deputy Director of DWR. "To realize habitat improvements for these species – while simultaneously addressing the Commonwealth's renewable energy goals – is a win-win."
Westmoreland County: Gold certified
In 2020, Cople Elementary School in Westmoreland County became the first facility designated as gold-certified, the highest designation.
Developer Sun Tribe installed solar panels about three feet off the ground with native plants such as black-eyed Susan, partridge-pea and blazing star within the open areas of the 4.62-acre site.
The 660-kilowatt system has been providing 95 percent of the school's energy to offset the school's power bill and carbon footprint.
Following a second year of monitoring on the site, the solar facility recently succeeded in becoming recertified at the gold level. The school has also incorporated hands-on lessons about pollinators into its curriculum.
"It has really given our students a better appreciation for our environment," said Leslie Steele, principal of Cople Elementary School. "We're able to provide some unique learning experiences for our students because of the pollinators being right in our backyard."
"The Pollinator-Smart program is rewarding the type of development that takes a good thing and makes it even better — like Cople Elementary's gold-certified, pollinator-friendly solar project," said Devin Welch, Sun Tribe Solar CEO. "It's now meeting nearly all the school's energy needs in a way that's better for the climate, for our air and for local wildlife."
More information
Virginia's pollinator-friendly solar program has provided guidelines and standards that a growing number of local governments are choosing to embrace as they consider applications for solar developments in their communities.
Dozens of Virginia's 132 localities now require the use of either native or pollinator-friendly species.
"We're encouraged to see a groundswell of interest in using native plants in recent years by individuals, localities and now a developer on a major solar project," said Jason Bulluck, director of the Virginia Natural Heritage Program at DCR. "Along with supporting the native plant industry here, these efforts have spurred a new drive to jumpstart Virginia's native seed industry in order to meet the current and future demands – not only for solar, but other development projects as well."
For more information on Virginia's Pollinator-Smart Program, visit: https://www.dcr.virginia.gov/natural-heritage/pollinator-smart.