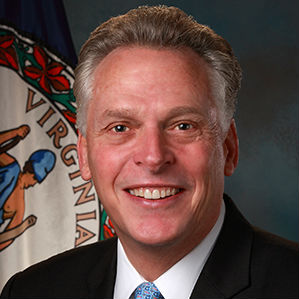 Virginia voters say 57 – 32 percent that they are optimistic about the next four years with their new governor, Terry McAuliffe, and give him a cautious 44 – 29 percent approval rating, with 27 percent undecided, according to a Quinnipiac University poll released today.
A total of 56 percent of voters are "very satisfied" or "somewhat satisfied" with the way things are going in the Commonwealth, while 43 percent are "somewhat dissatisfied" or "very dissatisfied," the independent Quinnipiac (KWIN-uh-pe-ack) University poll finds.
Gov. McAuliffe's approval rating is 69 – 12 percent among Democrats and 41 – 28 percent among independent voters, with a negative 22 – 50 percent among Republicans.  Men approve 42 – 33 percent and women approve 46 – 27 percent.
Many Virginia voters remain undecided about McAuliffe as they give him modest grades on his personal characteristics:
44 – 34 percent that he is honest and trustworthy;
53 – 31 percent that he has strong leadership qualities;
46 – 41 percent that he cares about their needs and problems.
"Gov. Terry McAuliffe's initial report card from Virginia voters is good, but not great.  A plurality – but not a majority – approves of his early days in the governor's mansion and for the most part he gets similar ratings when voters are asked about his personal characteristics. The exception is that a majority see him as a strong leader," said Peter Brown, assistant director of the Quinnipiac University Poll.  "His support has the expected partisan skew – he does very well among Democrats, poorly among Republicans, while his 13-point margin among independent voters gets him his positive overall rating.  His approval rating among women is only slightly better than his approval among men."
-more-
Quinnipiac University Poll/March 26, 2014 – page 2
"Virginians are optimistic about the future under their new governor, and a majority is satisfied with the way things are going in their state, better than the voter outlook in some other   parts of the country," Brown added.
In an open-ended question, allowing for any answer, a total of 27 percent of Virginia voters list the economy and jobs as the top priority for the governor and State Legislature, with 13 percent citing education and 9 percent listing health care.  Only 4 percent list taxes, lower than in most other states surveyed by Quinnipiac University.
Voters approve 41 – 33 percent of the way McAuliffe is handling the economy and jobs.  A total of 57 percent of voters say the state's economy is excellent or good, while 41 percent say the economy is not so good or poor.
Virginia voter's support 66 – 31 percent raising the state's $7.25 per hour minimum wage.  Support is 96 – 3 percent among Democrats and 60 – 36 percent among independent voters.  Republicans are opposed 56 – 41 percent.  Women want a higher wage 73 – 25 percent while men support it 59 – 39 percent.
Offered four choices:
26 percent want to increase the minimum wage to $9.25 per hour;
6 percent want to increase it to something less than $9.25 per hour;
32 percent want to increase it to more than $9.25 per hour;
31 percent oppose any increase.
Increasing the minimum wage would help the state economy, 49 percent of voters say, while 33 percent say it would hurt the economy and 15 percent say it would have no effect.
"Virginia voters feel good about the Commonwealth's economy, but still say it is the top priority in Richmond," Brown said.  "The number of voters who cite taxes as a priority is low.
"Support for hiking the minimum wage is consistent with what Quinnipiac University has seen in surveys of other states."
From March 19 – 24, Quinnipiac University surveyed 1,288 voters with a margin of error of +/- 2.7 percentage points.  Live interviewers call land lines and cell phones.
The Quinnipiac University Poll, directed by Douglas Schwartz, Ph.D., conducts public opinion surveys in Pennsylvania, New York, New Jersey, Connecticut, Florida, Ohio, Virginia, Colorado, Iowa and the nation as a public service and for research.