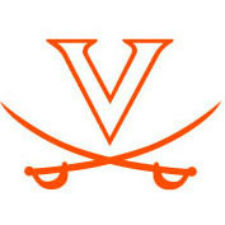 There are three kinds of lies: lies, damned lies, and statistics. Yes, we reference Mark Twain in pointing out the dirty little secret of UVa. baseball: that it's winning in spite of the fact that its offense is among the most anemic in the ACC.
At first glance at the stats, you don't see the problem. Virginia is hitting .273 as a team in all games (conference and nonconference combined), good for fifth in the 14-team ACC, which, hey, ain't bad. The Cavs are also fifth in the conference in runs per game (5.5) in all games, and third in the league in on-base percentage (.380) in all games.
Virginia might be 16-5 in ACC play, but it ain't because of the offense, which in conference games only is hitting just .230, good for 11th in the ACC, and scoring 3.5 runs per game in conference play, good for 12th in the conference.
It's the pitching and defense, with a team ERA of 2.07 in ACC games, nearly a run a game better than the ACC's second-best team (Miami), that has Virginia at the top of the league standings, but how much longer the arms and the gloves can prop up those punchless bats remains to be seen.
"What we need to do is be consistent with what our approach is," UVa. baseball coach Brian O'Connor said after Virginia's 4-2 loss to North Carolina on Sunday. "We've been addressing it, and I hope at some point it sinks in, that we've just been way too passive. And when you're passive like that, it's really tough to get yourself going. And that's where I think we can get better."
UVa. scored just eight runs on the weekend, winning 3-2 on Friday and 3-1 on Saturday. This after taking two of three at home from Clemson last weekend while scoring just five runs in three games.
It's nice to be 4-2 with series wins on back-to-back weekends against Clemson and UNC, but an offense scoring 13 runs in six games means maximum pressure on the pitching staff and defense, which collapsed a bit on Sunday, with two seventh-inning errors giving Carolina a late insurance run after a workmanlike effort from starter Brandon Waddell, who gave up four runs, three earned, in six and a third effective innings.
Sunday did mark the return of left fielder Derek Fisher, a projected first-round pick in this summer's MLB Draft, who missed 25 games after breaking a bone in his right wrist at Duke on March 9. Fisher hit eighth on Sunday, and went 0-for-3 at the plate, but if he can eventually contribute, on a pro-rated basis, anything like he did in 2013 (.306/.420/.505, 7 HR, 47 RBI) down the stretch in 2014, it will have to help the UVa. offense get healthy.
Fisher's absence seemed to put more pressure on fellow middle-of-the-order guys Mike Papi, who is hitting .298/.461/.481 with six homers and 33 RBI in 2014 after putting up otherworldly numbers in 2013 (.393/.527/.625, 6 HR, 55 RBI), and Joe McCarthy (.333/.464/.454, 4 HR, 50 RBI in 2013, .285/.400/.444, 3 HR, 30 RBI in 2014).
Fisher is likely to return to his customary fifth spot in the order in the coming days, perhaps pushing Nick Howard (.255/.298/.327) down to the bottom part of the order, giving O'Connor a top five beginning with Branden Cogswell (.300/.401/.340, 28 runs scored in 2014) and Daniel Pinero (.266/.395./.290, 20 runs scored) and then lumping Papi, McCarthy and Fisher in the run-producing spots.
A wise move might be to replace Pinero in the two spot with the red-hot John LaPrise (.390/.442/.455 in 24 games), then sticking with Howard at six and putting Pinero down to what some look at as the second leadoff spot at number nine in the order.
It all hinges on a healthy Fisher being able to reprise his 2013.
"We have a lot of moving parts. Our lineup really hasn't been consistent all year long," O'Connor said. "But certainly (Fisher's) talent dictates that he will hit somewhere toward the middle of the lineup. Once he gets an opportunity to get some at bats and things like that, we'll have to look to see where he ends up."
Even with the offensive struggles, Virginia is 33-7 right now, and even with Miami breathing down the Cavs' necks, the team will go to Tallahassee next weekend first place in the coastal division.
But the goals for this loaded roster are not to just win the coastal division or even the ACC. It's Omaha or Bust.
To get there, and win there, the offense is going to have to shoulder its part of the load.
"We're doing the best that we can to find the right mix to give us the best opportunity to score runs, so we'll have to adjust it when we get to that point," O'Connor said.