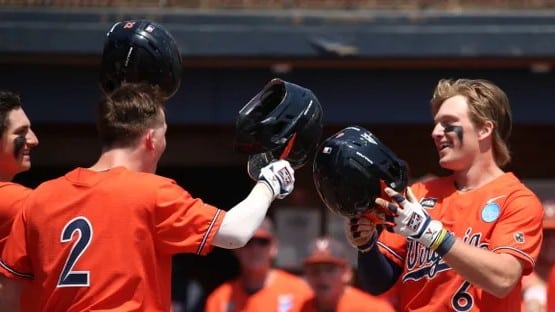 Virginia offense comes alive
Griff O'Ferrall's second-pitch-of-the-game rope over the left-field wall set the tone for the Cavaliers in a 14-4 rout of Duke here Saturday at Disharoon Park.
The Virginia win forces a winner-take-all Game 3 Sunday for a berth in the 2023 College World Series.
So much for that aggressive-hitting approach that was a bugaboo for UVA in a 5-4 loss to the Blue Devils Friday.
Also, Virginia cast aside any thoughts of losing the opener playing on the Cavaliers' minds. For a team with a roster full of postseason experience, the possibility of elimination didn't seem to bother Virginia from the opening inning.
Instead, that possibility rejuvenated the Wahoo offense.
Confidence at the plate, head-up base running and sparkling defense, all of the positive traits of 2023 Virginia baseball were on center stage here Saturday.
"I thought we played magnificently in every facet of the game," said Virginia coach Brian O'Connor.
The record crowd of 5,919 would agree.
A repeat outcome Sunday would send UVA (49-13) to the CWS in Omaha for the second time in three years and sixth time overall, all under O'Connor.
Today, Virginia belted four home runs, including Jake Gelof's 23rd of the season, which broke the Cavaliers' single-season record. The homer, which sailed well over the left-field bleachers, also allowed Gelof to eclipse the program's career RBI mark of 182, which was previously held by Steven Proscia.
Gelof now has 48 home runs and 184 RBIs in his three-year Cavalier career.
Virginia responds early, and then again 
Taking a 1-0 lead in the top half of the first (Virginia was the visiting team Saturday) on O'Ferrall's first homer of the season, UVA made an early statement that Friday's loss to Duke was just that – Friday's loss.
Three more hits in the second led to two more runs and staked the Cavaliers to a 3-0 lead that would eventually grow to 4-0.
Duke sliced the lead to 4-3 in the fourth, putting up three unearned runs after Virginia starting pitcher Connelly Early was charged with a throwing error that allowed the Blue Devils' leadoff hitter to reach base.
UVA responded in its the very next time at bat, scoring four runs. Three runs came on Ethan Anderson's 410-foot blast that left Disharoon Park. That shot was Anderson's 13th of the year and his second in the NCAA Tournament.
A batter later, Anthony Stephan hit a line-drive over the Virginia bullpen in right to give UVA an 8-3 lead that proved to be more than insurmountable for Duke.
Pressure, what pressure? 
Virginia faced elimination on Saturday, but pressure is something this program thrives on. Coming into the 2023 Super Regionals, Virginia baseball was just 2-5 in opening Super Regional games, but are 5-2 overall in terms of advancing.
With Saturday's win, the Cavaliers live to see another day.
O'Connor's squad scored the most runs it has ever scored in a Super Regional. The Cavaliers had 14 hits for the day, including four dingers.
UVA's offense has started slow at times in this postseason, but that was certainly not the case today.
Early was stellar 
Early gave the Virginia pitching staff a huge boost with a strong effort on the mound. Early, the most outstanding player from the Charlottesville Regional last week, threw 107 pitches across seven innings, striking out eight and walking none. He kept Duke traffic on the bases minimal.
"I felt that I had pretty good command on my stuff today," Early said.
Early, the Army transfer, kept the Duke offense scoreless for all but the fourth inning, where three straight two-out hits briefly allowed Duke to cut Virginia's lead to 4-3.
After the big four-run Virginia uprising in the fifth, Early came back in the fifth with a much-needed shutdown inning, striking out two batters to crush any thoughts of a Duke comeback.
'I thought Early was outstanding again," O'Connor said. "Duke had a lot of opportunities there. He buckled down and made big pitches. I'm really proud of him," O'Connor added.