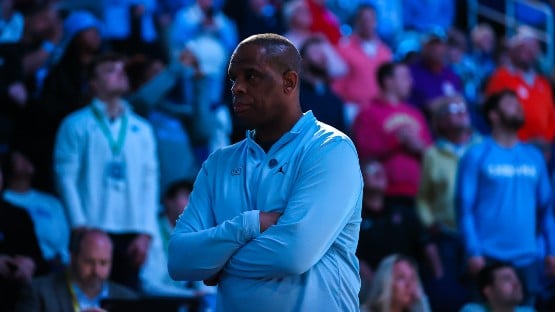 North Carolina, the preseason #1, is done, with UNC Athletics announcing Sunday that the team will not continue its season in the NIT.
Carolina finished 20-13 after a 68-59 loss to Virginia in the ACC Tournament quarterfinals on Thursday.
The program, as expected, did not get an NCAA Tournament at-large bid Sunday evening.
Coach Hubert Davis had indicated in his postgame presser after the Virginia loss that it wasn't likely that he would want his team to seek an NIT bid.
In a statement, Davis doubled down on that sentiment.
"All season our focus and goal have been on being the best team we can possibly become and reaching our full potential to give us another opportunity to compete, play for and win an NCAA championship," said Davis, who had led Carolina to the NCAA title game in his first season as head coach last year.
"Although we no longer have that opportunity and this season wasn't what we had hoped for, I want to thank our players and staff for their hard work and love for Carolina Basketball," Davis said. "Many factors go into postseason play and we believe now is the time to focus on moving ahead, preparing for next season and the opportunity to again compete for ACC and NCAA championships.
"I also want to thank our great fans for their incredible support. Our commitment to you is what drives us to improve our program in every way," Davis said.