In his eagerness to exploit fears about supposedly surging illegal immigration, Sixth District Congressman Ben Cline posted this on his Twitter account on May 13.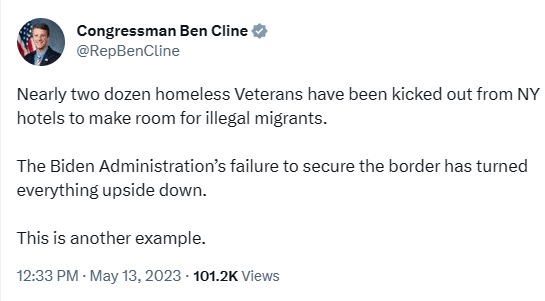 Shocking and disturbing if true. But for Cline and other Republicans who latched onto this report, there's one problem: it isn't true.
The Hill reported on May 19:
A sensational story about hotels in upstate New York throwing out homeless veterans to make room for migrants bused from New York City turned out to be false, according to a local news outlet.

New York state lawmaker Brian Maher (R) told The Times-Union the story was false after he had a conversation with Sharon Toney-Finch, the CEO of Orange County nonprofit Yerik Israel Toney Foundation.

Toney-Finch made the original claim about the homeless veterans thrown out of the hotel rooms, setting off a media frenzy this week that was scooped up by conservative outlets Fox News and the New York Post.

But under pressure from Maher to provide evidence, she unraveled emotionally and kept saying she wanted to help the veterans, according to the newspaper. But she failed to provide any evidence, such as bank statements, to the New York state lawmaker.

Maher also talked to the veterans who claimed they were thrown out of the Crossroads Hotel in the city of Newburgh.

At least one of the purported veterans said they were paid by Toney-Finch to lie about being thrown out, according to the Times-Union. And staff at Crossroads Hotel and two other hotels confirmed they never had dealings with the nonprofit or never housed any veterans.
Of course I don't expect Cline to apologize for believing and spreading this phony story. But for his own sake he ought to delete this tweet to avoid further embarrassment.
Gene Zitver is the editor of ClineWatch.