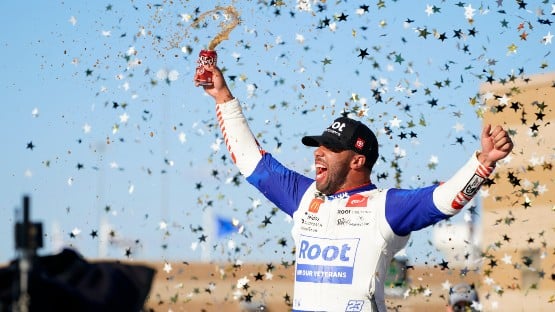 NASCAR should be thrilled that Bubba Wallace, the lone Black driver in the Cup Series, is doing well this season, 15th in points, three Top 5s, four Top 10s through 13 races.
Wallace, driving for a team co-owned by NBA legend Michael Jordan, is one of the more prominent alums of the NASCAR Drive for Diversity program launched in 2004 to try to broaden the base of drivers among minority populations.
That program also counts Kyle Larson, who won last weekend's All-Star Race, ahead of Wallace in second, among its alums, along with Mexican-born driver Daniel Suarez.
NASCAR needs to expand its driver base because that's the best way to expand its fan base, which is another way of saying, that's the best way to expand its business, by attracting and retaining new fans.
It would help if every time new fans tuning in because they want to see Wallace weren't confronted with Wallace being booed loudly by fans at the track.
Fair to say this or not, it comes across as NASCAR fans hating on Wallace because he's Black, and as much as some might want to say it's not, consider the post-race news from North Wilkesboro.
Somebody, we still don't know who, somehow broke into Wallace's team radio channel and …
"Go back to where you came from, you asshole. You're not wanted in NASCAR."
Yeah, that's racist.
Blatantly.
The only thing the person could have said that would have made it worse would have been to say out loud "go back to Africa" and replace "asshole" with the n-word.
Wallace's team said he didn't hear the message, and he hasn't addressed it publicly.
Another post-race incident, in which Wallace was caught on camera before an interview flipping the bird, is apparently not related.
NASCAR, in a statement, said it reviewed the on-camera incident and determined that Wallace wasn't being "malicious," and was intending the middle finger as a joke to a friend, so the sanctioning body will not take disciplinary action against him, in line with similar decisions in similar cases involving other drivers in recent years.
The closest thing we get to Wallace addressing race issues is what he had to say in a post-race interview following this past weekend's Craftsman Truck Series race, in response to the boo birds directed at him before and after every race.
"As long as you continue to live your life judging a book by its cover, that's who you are," he said. "Don't change it up for anybody else. That's the biggest thing. That's fine. I mean, I finished fifth, I got a good payday. I'm good."
Bubba Wallace is playing a sort of Jackie Robinson role here. Robinson, remember, as a rookie with the Brooklyn Dodgers in 1947, endured a lot more than just being booed by fans, including home fans at Ebbets Field, and his directive from Dodgers GM Branch Rickey was to take it in stride.
That directive was more about offering an olive branch to white fans than it was about trying to bring in Black fans.
I don't know that, in 2023, NASCAR is going to attract more Black fans when the only driver who looks like them is being booed by tens of thousands and told to go back where he came from.