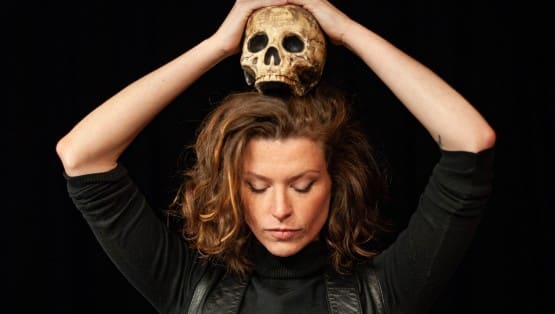 Vivid portrayals of two of William Shakespeare's most complex and compelling characters will finish American Shakespeare Center's 35th Anniversary Season this fall.
The world's only re-creation of Shakespeare's indoor theatre, the Blackfriars Playhouse is in downtown Staunton and has also celebrated the 400th Anniversary of Shakespeare's First Folio.
"Again and again, we turn to Shakespeare for the words to describe the workings of the heart," said ASC Artistic Director Brandon Carter. "In the rage of Hamlet and the unbending pride of Coriolanus we find the emotions that sear our souls —only to find our hearts melting as all-healing love finds the reluctant couples of Much Ado About Nothing. Imagine the poverty of our language without Shakespeare! In the company of these indelible and all-too-human characters, moved by Shakespeare's immortal words, we close our 35th Anniversary season."
The bitter, tortured prince "Hamlet" takes the stage from September 28 to November 18. A royal family unravels in this thrilling drama after Hamlet's father is murdered. He is horrified by his mother's hasty remarriage to his scheming uncle. Hamlet plots revenge, feigning madness that soon consumes him. Plot and counterplot build to a devastating finale as Hamlet's obsession finally destroys everyone around him. Cameron Knight (Utah Shakespeare Festival) makes his ASC debut as director. In an ASC twist, ASC veteran actor Meg Rodgers plays Hamlet and Artistic Director Brandon Carter plays Ophelia.
The proud, relentless warrior Coriolanus takes the stage from October 26 to November 18. Class war and the struggle for equity and justice were unlikely themes for a theater company called the King's Men, but Shakespeare's Coriolanus portrays a leader whose pride places him so far above his subjects that he can scarcely hide his disdain. When hunger drives the people to sedition, Coriolanus wins back their regard in feats of battle, but loses their faith and his life. Unbending pride and untrammeled power make a deadly mix in this riveting tragedy.
Coriolanus is an "Actors' Renaissance" production, with the players staging the show with no director. Like the actors in Shakespeare's day, it falls to them find the pace and passion in every line, creating a bond between the players as well as with the audience. For the audience, it's an experience that led Washington Post theatre critic Peter Marks to declare: "I arrived a skeptic, I left a believer."
"Much Ado About Nothing," one of Shakespeare's most beloved romantic comedies, continues through November 19. Feel the joy of love won and the
ache of love lost as the story makes you laugh, breaks your heart and then somehow puts it back together again. Staged in ASC's "Actor's Renaissance" tradition, the production has delighted audiences since July.