Legendary baseball coach Mike Bocock isn't exactly taking the summer off from coaching. Bocock, who led the Waynesboro Generals to the 2013 Valley League championship, his eighth in 25 years as a VBL coach, stepped down from the job after hoisting the Jim Lineweaver Cup in August, but Bocock will be patrolling the dugout for a new team this year.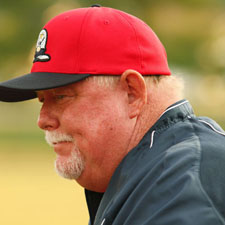 Bocock's Shenandoah Valley Baseball-Softball Academy is putting together a travel team made up of 15- and 16-year-old players from Virginia, West Virginia, Maryland and Pennsylvania that will travel the national summer circuit.
"I said this when I retired last summer. Coaching is in my blood," said Bocock, who notched his 600th win as a Valley League coach last summer on his way to the league championship.
His baseball academy has produced several notable baseball talents, with more than a dozen players currently playing college baseball and two recent alums, Brian Bocock and Daniel Bowman, in major league camps this spring.
The effort with the 15/16 travel team will look to add to those numbers with opportunities for players to grow their talents and skills and showcase them to college coaches and pro scouts.
"The schedule that we'll be playing will be challenging, but that's the way you get better," Bocock said.
The Shenandoah Valley Baseball-Softball Academy will be hosting its 2014 Super Camp this weekend in Bridgewater. The two-day camp includes sessions for hitters, pitchers and coaches.
More information on the Shenandoah Valley Baseball-Softball Academy is online at http://SVB-SA.com.