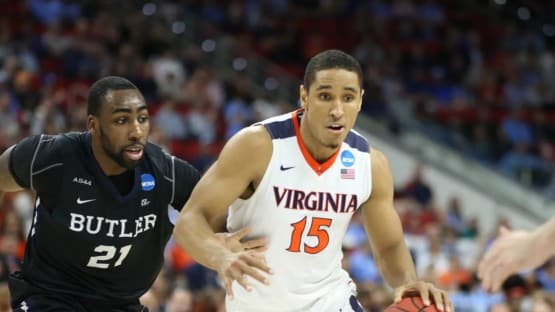 The Boston Celtics brought Malcolm Brogdon in on a big contract to play him off the bench for a reason: identity.
Brogdon, a 2016 UVA alum, is a big, physical point guard who can shoot from the perimeter, play shutdown defense, and he's a leader.
And he'll tell it like it is – and the is with the Celtics, down 3-0 in the Eastern Conference finals to the eighth-seeded Miami Heat, isn't up to expectations.
"Miami is one of the teams, one of the few teams in the league — Miami, Denver, there are only a few of them — that have a really strong identity, and they play by it every single night. They're super committed to it," said Brogdon, who is averaging 11.3 points, 4.2 rebounds and 3.8 assists per game in the conference finals, shooting 42.3 percent from the floor and 58.3 percent from three.
The Cs have struggled on the offensive end against the Heat, but it's been on defense where the issues have been most pronounced.
Boston ranked second in the NBA in defensive efficiency in the regular season, but rank just 10th among the 16 playoff teams in the 2023 postseason.
Brogdon doesn't think it's been just a postseason problem.
"Our identity has waned all year long," said Brogdon, the 2023 NBA Sixth Man of the Year, on the strength of his 14.9 points, 4.2 rebounds and 3.7 assists per game for Boston in the regular season, shooting 48.4 percent from the floor and 44.4 percent from three.
"We've been trying to figure out who we are, because I think we're such a great, talented scoring team, but when we don't make shots, we got to rely on our defense, and our defense isn't consistent every night. So, playing a team that's very consistent and disciplined, we struggle," Brogdon said.
Game 4 is tonight in Miami.