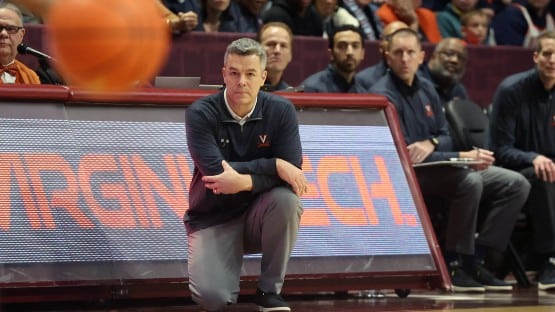 If I hear that the new replacement coach is one Mr. Kihei Clark, then I think I might lose my mind. In your opinion, don't we need a "big man" coach to assist Jason Williford? To many he seems out of his league coaching our bigs, and few (Huff aside) progress and many retain bad habits (HARD hedge!, bad hands, can't finish inside, etc.). Love to hear your opinion. 
– Marc Weathersby
First thing, the kid is gone, and the Ki-hate continues. Doesn't make any sense to me. All Kihei Clark did was play his ass off for five years, and if he doesn't chase the backtap into the backcourt and fire off a bullet pass, there's no banner hanging in JPJ.
That said, Clark is going to be playing basketball somewhere next year, so, there's that.
No, Clark won't be filling the opening on the UVA coaching staff left by the departure of Kyle Getter to Notre Dame.
It's possible that Tony Bennett decides to elevate somebody from the support staff to a full-time coaching gig, though I'm hearing that he is showing some interest in talking with people from the outside to gauge what his options would be there.
Regarding the assessment of Williford, this is another thing that I don't get.
Williford is just coaching to Bennett's system, inherited from Bennett's father, Dick, and modified by Tony over the years, that puts certain demands on its bigs.
Marc is far from being the first to raise issue with the hard hedge, the approach coached by the Bennetts that has the big, guarding the pick and roll, sliding out to double team the ball-handler, as opposed to the drop coverage technique used by some that has the big slide under the screen to focus on taking away the ability of the screener to roll to the basket.
Fans get frustrated when a UVA big gets a foul on a guard running full bore into him 30 feet from the basket.
Bennett, certainly, gets frustrated at that as well; that's why he recruits bigs who have good lateral mobility, which they're supposed to use to avoid cheap fouls and get back to the basket after forcing the pass from the ball-handler, eating up precious seconds from the shot clock for opponents.
It's not exactly a news flash when I suggest here that Bennett ain't getting rid of the hard hedge just because some of y'all don't like it.
Neither is he likely to rewrite his offensive playbook to do things dramatically differently with his bigs on that side of the floor.
The Bennetts offense is predicated on bigs setting screens to get the guards open, and the offense for the bigs is largely pick and pops and rolls off the screens, with little in there for post-up guys.
The coaches recruit to those specs, on offense and defense – to find guys who are mobile, with motors.
Now, that said, I can't imagine that the coaches can't see that we lose out on top big recruits (think: Armando Bacot) because of the system, and that there couldn't be some benefit from tweaking things, particularly on the offensive end.
Even some sets for post-ups, spacing the floor to get those guys looks, would at least give the offense something else in the event that an opponent (think: Duke, in the ACC Tournament) shuts down the sides offense.
I'm going out of my way here to not say anything bad about Jason Williford. Like I said above, I don't know that I get the criticism from some for him. I view him as the heir apparent for when Tony steps down. (Which I assume will be sooner than most think.)
I've been advocating for tweaks to the offense, but it's not like Bennett didn't make some serious tweaks this season – more high screens, triangle and five-out mixed in with the sides.
I'd think some more looks for post-ups and more emphasis on transition to try to get some chances at easy buckets so that the offense isn't always playing against set half-court defenses could help.
I wouldn't change anything about the defensive approach.
I think the coaching opening could be an opportunity for Bennett to get someone on the staff who has perspective outside of the Bennett coaching tree to bring to the table.
Me personally, I think an infusion of thought from a fresh perspective should be a priority.
I don't know that Bennett will ultimately go that route, but if it was me, I would.