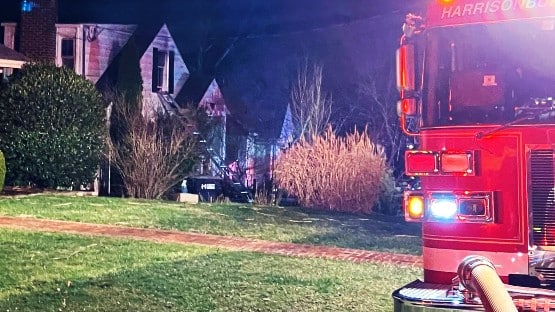 A woman whose home didn't have functioning smoke alarms was forced to escape her home through a second story window after a fire erupted in the early morning hours Sunday.
"There is no doubt that this member of our community is extremely lucky to be alive," Fire Chief Matthew Tobia said.
Harrisonburg firefighters had been called to the 100 block of East Weaver Avenue at approximately 1:40 a.m. for a reported structure fire with flames coming from the side of the home.
Pets had alerted the occupant to the fire, which trapped her from escaping via the interior of the home.
"Fire can be deadly, and this incident highlights the immense importance of functioning smoke alarms," Tobia said. "We ask everyone in our community to please check their own smoke alarms and their neighbors, especially those who may be infirmed, mobility limited, or elderly, who are the most at-risk when fires occur."
The occupant suffered smoke inhalation and was treated and released from a local hospital.
All of the pets in the home, including two cats and two dogs, survived.
Firefighters were able to bring the fire under control in under 20 minutes.
The cause of the fire has been determined to be accidental with damage estimates set at approximately $65,000 for structure and contents.
There were no firefighter injuries during response to this call.
The Harrisonburg Fire Department was assisted by Rockingham County Fire Rescue, the Harrisonburg Rescue Squad and the Harrisonburg Police Department.