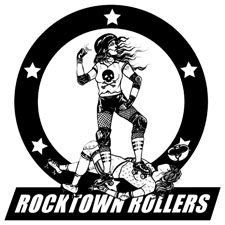 The Rocktown Rollers are now formally working their way into big-time roller derby.
On July 1, the Rollers, based in Harrisonburg, were accepted into the Women's Flat Track Derby Association's apprentice program.
The apprenticeship is a year-long program dedicated to helping new teams become full members of the WFTDA league.
"These are really good teams. We can play them now, but the win or loss will not count for anything in our stats, and besides, WFTDA teams generally only like to play other WFTDA teams," said team member Christina Steele.
In order to become full members, the Rollers will have to complete community service, and everyone on the team must pass a litany of skills tests. During this process, the Rollers, which formed in 2008, will have help from a mentor team from the WFTDA league that will help guide them through the process to make sure they will become full members.
The application process to get into the apprentice program was lengthy. "Lots of paper work had to be filled out regarding each of us," said team member Knasty Knitter. All of the women also had to pass a skills assessment test. Another part of the application process was setting up bylaws and making the WFTDA see them as a business. Along with all of those things they had a write a letter explaining what their intent and goals were.
One might wonder how you get into a sport like roller derby. Steele shared her experience. By day she is Christina Steele, hardworking Starbucks employee; by night she is Blue Steele, a hard-hitting roller derby chick.
Steele was first introduced to the Rocktown Rollers by a friend, known in the rink as Betty Crasher. Even though Steele had no idea how to skate, she thought she would go to a practice and see what happens. After the first practice, she gave up on the idea, then a couple weeks later she was back. The girls let Steele practice learning how to skate off to the side while they did their own practicing for their next bout.
Now, 13 months later, Steele is the team's director of administration, and loving every minute of it.
"It's the most powerful, enduring, strategic sport I've ever played," Steele said. "At first I thought it was just skating around and hitting each other, but then I realized there's actually a game to it. There is a lot of strategy that comes with it, and that's what I love about it."
 
 
Story by Jenny Hypes. Jenny can be reached at [email protected].