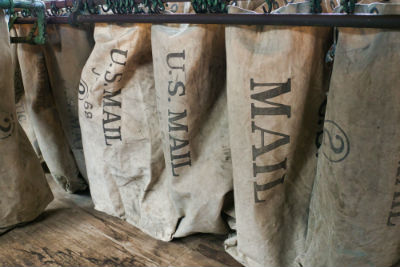 In the train station at the entrance to James Madison's Montpelier, The Montpelier Station Post Office in Orange County opened for business in 1912.
In early June, the office suddenly closed without warning or explanation to area residents.
According to the Orange County Review, residents who received post office box mail at Montpelier would now receive it at the Orange Post Office on Main Street.
U.S. Rep. Abigail Spanberger wants answers and sent a letter to U.S. Post Service Virginia District Manager Gerald Roane asking questions about the sudden closure. In her letter, according to a press release, Spanberger outlines the impact the station's closure has on the people she serves. She also asked why residents were given no notice before the closure or reasons behind the closure.
"Unfortunately, many constituents have contacted my office to report the abrupt closure of the Montpelier Station Post Office in Orange County, Virginia on June 1, 2022," Spanberger said in the letter to Roane. "Due to its location in a rural community, the Montpelier Station Post Office serves nearly 100 customers by P.O. box only. Neither my constituents nor local officials were given any prior notice of the closure, and the only information they were provided after service had already been discontinued was that their mail would be held behind the counter at the Orange County post office where they must now pick it up in-person during regular business hours."
Spanberger's letter goes on to express her concern for "this abrupt discontinuation of mail service that has prevented those we serve from receiving the important items they rely on. I am also extremely frustrated by the lack of transparency, forewarning regarding the closure, and information following the closure that my constituents and local officials have received."
Spanberger cites in her letter regulations that require the USPS consider the impact of a closure on a community and the postal employees. The USPS must also not close or consolidate a post office until "60 days after its written determination is made available to persons served by such post office." Residents served by the post office have 30 days to appeal the closure.
In the letter, Spanberger also asks if the employees of the Montpelier Station were transferred, terminated or other arrangements of employment made.