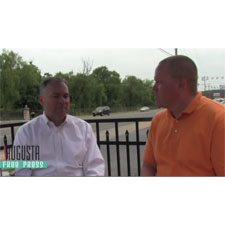 Democrat Tim Kaine is in a dead heat in his 2012 U.S. Senate race with Republican George Allen. This qualifies as good news for Kaine given his run of close political races.
"I've never seen myself tied in a poll until about seven days before an election, so for me, it's like, Wow, this is fantastic," said Kaine, like Allen a former governor, and like Allen a former national party leader.
Kaine headed up the Democratic National Committee from his final year in the governor's office in 2009 until announcing earlier this year that he was running for the Democratic Party nomination to run for the U.S. Senate seat currently held by fellow Democrat Jim Webb.
Kaine entered the race, he told a group of 75 local supporters at Wright's Dairy Rite in Staunton on June 18, because he feels that Virginia has answers to the problems facing America today.

"Not that we're doing everything right. We can always do better. But I'm really convinced that there are so, me things about Virginia that, if we can bottle them, and I can take them with me to Washington, we'll be able to solve some of the problems at the national level," Kaine said.
First and foremost: the economy. Since President Obama took office in 2009, the GDP has grown its way back to pre-recession levels, the economy has been adding jobs consistently and the stock market is in the 12,000 range, "and Democrats had to do all of that with no help from the other side," Kaine said.
"But we know we're not where we want to be yet," said Kaine, who drawing on the lesson of Virginia advocates continued investments in education as a cornerstone to economic development and economic growth.
"It's education that helps our workforce have the skills that they need to attract jobs. It's our education system that attracts great brains and entrepreneurs and innovators to want to come to Virginia," Kaine said.
"The other side will talk about how cutting taxes is all you need to have a strong economy. Again, you've got to have fair taxes, but remember, in the 1950s, Virginia was a low-tax state, but our economy was at the bottom. It was education that brought us back," Kaine said.
Drawing next on his experiences in the governor's office, during which he had to oversee billions of dollars of cuts to the state budget as a result of declining state revenues at the height of the national recession, Kaine said "there's a right way and a wrong way" to go about making spending cuts.
"The right way to do it is to not have any sacred cows and find cuts wherever you can. The wrong way to do it is to shred the safety net. I will never shred the safety net in this country, and I'm not going to privatize Medicaid and Medicare, and I'm not going to privatize Social Security," Kaine said.
A key difference between the current approaches advocated by Republicans and Democrats in Washington: "We know you've got to make cuts, but we also know that you've got to make investments," said Kaine, noting efforts in his administration to continue funding for expansions at state-supported colleges and universities to increase the number of spaces available to students and increases in funding for pre-K programs to give kids a head start on education.
Kaine conceded in an interview with AugustaFreePress.com after the event at Wright's Dairy Rite that it would be naive of him to think that he can go to Washington and alone change the political dynamic on Capitol Hill.
"But the only way the dynamic will change is if individual people get elected and go into office with a commitment to do better. And we've got to do better," Kaine said.
A key to doing better is by reaching across the political aisle to work with Republicans toward solutions to the challenges facing America.
"I'm a proud Democrat, and I will never be ashamed to be a Democrat, and I'll never be ashamed to be a great supporter of President Obama. But I know my job, if I get elected, is to work with anybody who wants to solve problems," said Kaine, citing his experience as governor, which for two years had him working with Republican majorities in the House of Delegates and State Senate, then his final two years had a split with the GOP in control of the House and Democrats in charge of the Senate.
Kaine will go to Washington "to solve problems."
"We have big problems, and the way we solve problems is by working together," Kaine said.
His message to fellow Democrats: It's time to get to work.
"President Obama and his team are going to take Virginia even more seriously in 2012 than in 2008, and that's good news for us. But the other side will, too. The other side will pour a lot of resources into Virginia," Kaine said.
Virginia is now a battleground state, which for Democrats in Virginia, who lost 12 state presidential elections dating back to 1964 before Obama's win here in 2008, is welcome news. But with being in a battleground state comes pressure, Kaine said.
"We've got to really work hard. We've got to put our best foot forward," Kaine said.
Story by Chris Graham. Chris can be reached at [email protected].