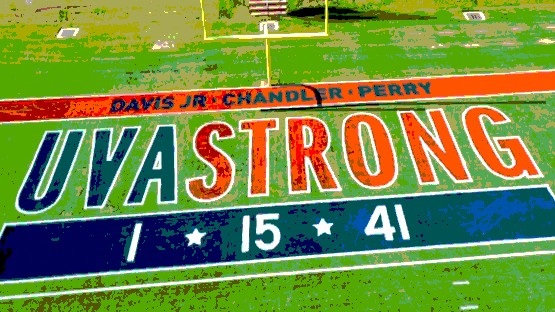 There are several storylines on both sides heading into this weekend's long-awaited rekindling of the Virginia-James Madison football rivalry. Fifth-year JMU head coach Curt Cignetti is aware of all the excitement as gameday approaches, but with all of that noise can come distractions.
Cignetti just wants to see his players be able to keep their collective blinders on, block out the noise, and lock in on the task at hand in an even-keeled manner — "never too high, never too low," as he put it.
First and foremost, it will be an emotional day for the UVA program and its supporters as they welcome an opponent into Scott Stadium for the first time since last year's season-ending tragedy in November.
The Cavaliers will be remembering the lives of fallen teammates Devin Chandler, Lavel Davis Jr. and D'Sean Perry prior to kickoff and throughout the day as part of the "UVA Strong" theme.
"They're having a special ceremony honoring the shooting victims, which our administration will take part in and we fully support," said Cignetti. "We'll wear helmet decals honoring the victims. But we want to take emotion kind of out of the equation this week in our preparation, be very detailed and have a great week of prep, but we've got to play the game with great discipline, poise, play smart, and never too high, never too low. Don't be emotional in this game. We've got to have a very business-like, focused approach."
As for the contest itself, it's the first time the Cavaliers and Dukes will go at it on the gridiron in 40 years, meaning many in attendance — from both schools — will be seeing something they've never seen before.
For others, particularly JMU alumni who recall the last meeting in Charlottesville in 1983, or the program's lone win against UVA the season before in 1982 on the same turf led by Gary Clark, Saturday's "rematch," so to speak, has been looked forward to for decades.
Whether you're an alum, a longtime fan or new to following the Dukes, if there's a road game you want to say you were there for, this is essentially the one.
It's a chance to show big brother that there's a new sheriff in town, and to do it in their own backyard — in a rare, nationally televised affair for JMU— would make quite a statement and add some rather tasty icing on top of the program's cake.
And if JMU does win the game, that'd be their 18th in a row over a foe from the Commonwealth, equaling some pretty impressive bragging rights among the state schools. It would also obviously be a win over a Power 5 opponent, yet another feather to put in the cap heading into conference play next week.
But Cignetti would prefer to let the cards fall where they may tomorrow afternoon and then worry about all of the rest in the postgame locker room.
"Well, I know this game means a whole lot to our alums, there's no doubt about that, and people that love JMU," he admitted. "But for us, that's noise and clutter, and doesn't affect, really, the quality of our preparation. And how you practice and how you prepare is a strong indicator of how you're going to play on Saturday.
"We've got to approach it like any other game. We know we're going on the road, [in a] hostile environment, and I don't want our guys to go out there and be too emotional. I want them to have a lot of energy and fly around, but I want it to be focused, laser-focused energy. And I want to be able to handle the highs and the lows, and come back the next play and play at a high level, not get caught up in the situations of the game. Don't be affected by success or failure. We've got to play well."
It'll be a rather short, stone's-throw trip from Harrisonburg to Charlottesville, about a 50-minute drive down 81 South to 64 East (or 33 East to 29 South if you don't mind a few curvier roads). Tickets are still available as of Friday morning, so if you're a JMU fan, you have the opportunity to fairly easily support your team on the road — not always something that's exactly feasible. Consider that the Dukes will travel to Alabama and Utah the following two weeks, with the next-closest road trip this year being at Marshall on Oct. 19.
Meanwhile, the Hoos will be looking to make a statement of their own, and Cignetti is particularly impressed by the Cavaliers' defense.
"You're looking at a lot of the same guys, really," he said, "a lot of fifth- and sixth-year seniors. So it's the same guys for the most part, except for the corners, and maybe there's little safety adjustments they've made personnel-wise, but a really good defense. [They] don't give up a lot of points, they've got big people and they do a nice job."
Although he's fairly new to the Harrisonburg area, redshirt-senior wideout Phoenix Sproles, a transfer from North Dakota State, has picked up on the importance of Saturday's game, and has circled his own calendar for certain opponents in the past.
"Playing for North Dakota State University, that South Dakota State University rival game is always kind of like the tip of the iceberg," said Sproles. "It doesn't matter if it's the first game of the season, the last game of the season — you're not supposed to look forward to those games because you want to focus on whatever team you're playing that week.
"But in the back of players' heads, they're thinking about those in-state or border games like that, and they propel you as a team for the season that whatever happens in that game kind of depicts the rest of the year in some scenarios. So we're going to give everything we have for this game like it's another normal game, but obviously, being an in-state game, it is a little bit bigger than that, so we'll be ready.
"Hearing about how these guys are approaching it this week, a lot of them are hungry. A lot of them want to go out there and dominate, and now being a part of the team, I want to do the same. So we're all coming harder, and it's gonna be a great week of preparation."
Sproles also mentioned the vast experience among the UVA defensive players, and knows that Saturday's game will be a great test.
"Probably their D-line," he said when asked what sticks out about the Wahoos. "They do have some returning guys in the back end, their back seven, but they have a really solid D-line. Guys are experienced, some bigger guys. So we've just got to be sound on offense and it starts up front with our O-line, and we know what they can do, as you guys saw last week. So we just need another push out of those guys this week and we'll be sound — quarterback, receiver, running back — we'll be ready."
JMU senior safety Josh "Cheese" Sarratt, who played his first two seasons at VMI, liked what he saw from the Dukes' defense in the second half against Bucknell last week, and shared his thoughts on what changed for the unit after halftime.
"We just had to get back to doing what we do, like not trying to be too cute with the schemes and all that," said Sarratt. "Just go out there, swim to the ball, communicate, everybody do our job and just play the JMU defense that we know we can, that we do in practice every single day."
The Dukes held the Bison to 3 points on the night and 208 total yards (just 4 yards across the final 30 minutes), and recorded 3 sacks and 9 tackles for loss in the process. Sarratt, who finished with a pair of tackles (one for a loss), was seen on JMU social media after the win, and had already shifted his attention to the UVA game before even stepping off the field.
"As soon as that game was over, I was thinking about, 'What are we going to do for this next week to win?'" the Stafford native said. "I'm not going to put [the Cavaliers] above or below any other opponent that we face. I'm just 100-percent locked in on trying to handle what we need to handle this week.
"I've got a lot of respect for those guys. They've got a great running-back group, great receivers, quarterback's good, O-line's good, so they have a very balanced team, very good team. We will have to be on our A-game, but I feel like as long as we do what we do, we should be good, all respect to them."