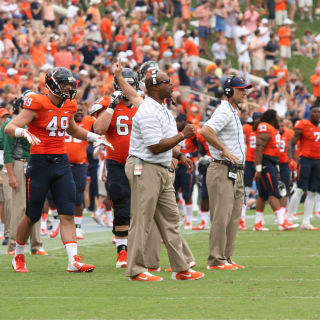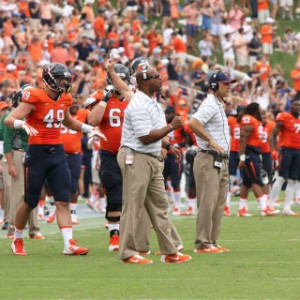 Ten days ago, Al Golden was celebrating an ACC win over Virginia Tech. Then his Miami team got buzzsawed by Clemson, and he was out of a job.
Virginia coach Mike London is familiar with the concept of hot seats. The Cavs are 2-5 this season, 25-43 in five-plus seasons under London, and on the verge of their fifth losing season in the last six under the $3 million-a-year coach.
London and Golden are close from their time together on the staff of former UVA coach Al Groh, who found himself out of a job in 2009 after the 'Hoos stumbled to three losing seasons in his last four years in Charlottesville.
Speaking with reporters on Monday, London acknowledged that the news involving Golden hit close to home.
"Al and I are good friends, personal friends. Our families know each other. My thoughts and prayers are with him," London said at his weekly press conference.
"This is a profession that we're in. I wish him success and things that I know he's looking for and wants to have in this coaching profession. But at the same time, it's what this profession is about. I don't know the particulars, but I know Al to be a really good friend. I hope everything works out in the end."
London, obviously, is on the verge of finding himself on the receiving end of a pink slip. With one year left on his contract, the timing would seem to be right for athletics director Craig Littlepage to make a change.
Littlepage retained London at the end of the 2014 season – technically, he made the call on London's status before the season finale, a 24-20 loss at Virginia Tech, two days before the finale – citing the program's improvement from a 2-10 disaster in 2013.
Implied in Littlepage's statement was that continued improvement would be required in 2015. At this stage, a strict accounting of the standard of improvement in terms of won-loss record would mandate a 4-1 finish, against a rather tough schedule, beginning this weekend with preseason Coastal Division favorite Georgia Tech.
The Yellow Jackets are struggling themselves, just 3-5 overall and 1-4 in the ACC. That's the good news. The bad news is that the one is a 22-16 win over Florida State on Saturday that, for now, at least, saved Tech's season.
"It's big," London said of the opportunity this weekend. "As I said, you can look at where we are and you can talk about what's going on. Again, the reality of it is, in the ACC, we're 1-2. We have a home game against a very good Georgia Tech team. For whatever reason, whatever they were suffering from beforehand, they put a game together that beat Florida State. The ability to go 2-2 in the Coastal at home and then continue some momentum from that is important."
The Jackets are five-point road favorites, and lately this series has been one wherein hammer meets nail. Georgia Tech has won five of the last six, the last three by an average of 24 points per.
The stakes are what they are. Win, and the Cavs still need to win three of their last four – at Miami (4-3, 1-2 ACC), at Louisville (3-4, 2-2 ACC), at home against Duke (6-1, 3-0 ACC) and Virginia Tech (3-5, 1-3 ACC) – to finish 6-6.
Lose, and Virginia needs to win out, against a reality that it will not be favored in any one the rest of the way.
"Three of our last five games are home games, and I believe three of the last five teams are teams that are .500 or less. So again, there are still opportunities out there that this team can achieve," points out London, ever the optimist. "There are still games to be played. There are still games to be won. Individuals, playmaking, coaching – things like that to improve to allow this team to reach that type of success. So our players are very much in tune to that.
"Again, we talk about coach speak all the time, but definitely for us the one game at a time mentality, this one game is the next most important game for us because it's a Coastal conference game. It's a chance to go 2-2 in our conference play. It's a chance to add to another win to total the six opportunities that you have. So there are so many things that are still on the table there for us. We're going to have to, like I said, play our best, coach our best to achieve those things, but it's nonetheless achievable."
– Story by Chris Graham