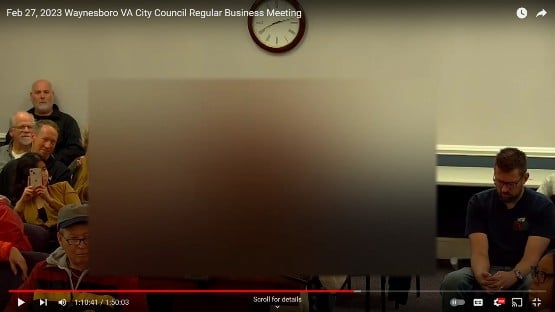 That guy named Mason Pickett who gave the double-middle finger to Waynesboro City Council on Monday was among the group that was tsk-tsking in defense of embattled Waynesboro Vice Mayor Jim Wood.
You may not know the name, but if you ever drive through the intersection of Rosser Avenue and Lew Dewitt Boulevard, out near I-64's Exit 94, you've no doubt seen him, and what he considers civil discourse, which runs along the lines of his double-bird to City Council.
The signs that he brings to get his political messages across to passing motorists vary by what's in the news that day. "Pelosi, bitch" are "Fuck Biden" have been among the selections, as well as the one on which he misspelled the first name of local activist Jennifer Lewis as "Jennerfer," apparently trying to link Lewis to transgender activist Caitlyn Jenner.
This Pickett guy, as it turns out, doesn't even live in Waynesboro. He's a retiree from Albemarle County who drives over our way, one has to presume, when he fails to get the proper attention for his shenanigans in Albemarle and Charlottesville, where he has twice been convicted of misdemeanor assault and battery in cases involving his, ahem, political activism.
In a 2019 case, Pickett was fined for ramming his shoulder into a man who was commemorating the second anniversary of the death of Heather Heyer during the Unite the Right rally. According to media reports, Pickett, trying to position a sign reading "Idiot" with an arrow for photographers, plowed into the victim, whose sin that day was having a different point of view on the murder of an activist by an avowed white supremacist.
He got a $100 fine for that one, then was handed a 30-day suspended sentence in 2021 for attacking a woman who had accidentally bumped into him in front of Bodo's Bagels on The Corner. According to a police report in that case, Pickett hit the victim multiple times with a protest sign, before being pulled off the woman by two passersby, one of whom happened to be former Charlottesville Police Chief Tim Longo, who is now the chief of police at UVA.
Pickett had previously been acquitted in two other trials in similar incidents, both of which were reported in 2017.
Consider this background as you read what this Mason Pickett guy had to say at the City Council meeting on Monday, around him flipping the bird at Council members.
"Who are these people that are after him? They're the same people that when I hold a sign down on the corner, that on Sunday, Sunday of all days, ride by in their Lexus and Mercedes and their Land Rovers, in their nice little black dresses with pearls, and ride by and, I'm number one," Pickett said, flashing his middle fingers at City Council members.
"Whoa, on Sunday. I see three or four faces in here that do that. Now, if they'd like to raise their hand and apologize, they don't have to apologize. Just raise your hand. I bet it doesn't happen. I'm not gonna turn around and look," Pickett said.
This is one of the people who came out Monday night to defend Jim Wood, who is under fire for using a homophobic slur to refer to Transportation Secretary Pete Buttigieg, and wants you to think that it was just something said in jest, and that people who have a problem with him calling a gay man "Pete Buttplug" are the ones with hate in their heart.
The Mason Picketts and Jim Woods of the world want to be able to say hateful things, not have to face any repercussions for saying hateful things, and then when you raise issue with them for them saying hateful things, they want you to be the one to have to apologize for having raised the issue with them.
Tsk-tsk.