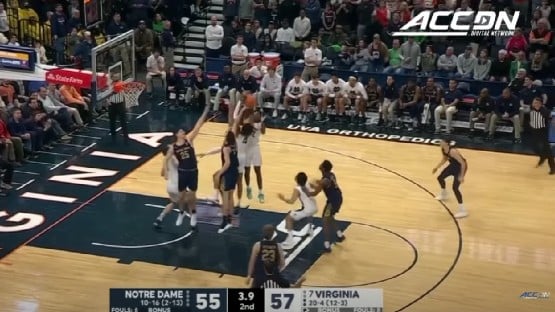 Nobody thought to ask Tony Bennett after the game if he'll ever foul up three inside of five seconds to go again, but you'd have to think, maybe not.
The missed free throw that Notre Dame almost turned into a buzzer-beating, game-winning three took a year or two off the lives of more than a few people in attendance and watching at home.
The scoreboard read Virginia 57, Notre Dame 55, but it sure didn't feel like the home team had won after the crazy endgame sequence.
To set things up: Virginia was up 57-54 with eight seconds left, with Jayden Gardner at the line for a one-and-one.
Make one, and the game is over, but he missed, and Notre Dame, with one timeout left, worked, at Mike Brey's instruction from the sideline, to get a shot off before Virginia could get set up on defense.
Bennett, on his sideline, instructed his guys to get a foul to prevent the Irish from squeezing off a potential game-tying three.
Gardner fouled Trey Wirtz, sending Wertz to the line for a one-and-one with 3.9 seconds left, with the stakes obvious.
Wertz needed to make the front end, and then, presumably, would need to miss the second, to give Notre Dame a chance at a rebound and a stickback to tie the game.
Bennett has been on the other end of this kind of situation before – you may remember the 2019 Elite Eight game, a Ty Jerome miss, Mamadi Diakite tapping the ball back into the backcourt, Kihei Clark chasing it down, then finding Diakite in the lane for the game-tying jumper at the buzzer.
But that kind of thing happens once in a thousand times. Fouling to prevent the game-tying three is the smart play.
Unless you get the "perfect miss."
Link on YouTube.
That's how Bennett described the miss on the back end by Wertz, who after calming sinking the front end of a tense one-and-one, couldn't have missed a free throw any better, given what he was trying to accomplish.
After a Brey timeout to try to draw up something from among the few options left for the Irish, Wertz, a career 76.7 percent shooter, laid the second free throw into the back iron, sending it careening high into the air.
Bennett, during the timeout, had decided to stay with Ben Vander Plas and Jayden Gardner on the blocks, and to have guards Reece Beekman and Armaan Franklin pinching Notre Dame bigs Nate Laszewski and Matt Zona.
"We knew they were gonna miss, and I tried to call a timeout at the last second," Bennett said, not explaining why, but he could have noticed that Brey was playing for the win, aligning Dane Goodwin and Cormac Ryan on the three-point line.
Bennett had just Clark on the three-point line, shaded toward Goodwin, but with the assignment to burst into the lane to box out the free-throw shooter, Wertz.
The other option would have been to pull one of the guards out of the lane to prevent a rebound and kickout, but doing that, "then you're gonna probably give up one-on-one rebounding, so you're trying to just pinch and take your chances," Bennett said.
The carom went so high into the air that the rebounders basically canceled each other out. It appears that maybe Beekman got a hand on the ball, but his slight misdirection knocked the ball away from Clark, who had come in from the three-point line to try to box out Wertz at the foul line, into the hands of Wertz, who quickly kicked the ball out to Goodwin.
This is where you remember that offensive rebound kickouts hit three-point shooters in rhythm, momentum on the catch taking them toward the basket.
It's the highest-percentage three you can get.
This was the shot that Goodwin was lining up.
Clark tried to get out to the three-point line for a closeout, but it was essentially a make-or-miss three.
"I was just thinking, last year, he was shooting like 50 percent, so I thought it was green, I thought it was going in," Clark said.
Brey, as he sat down to talk with reporters, was still having trouble processing that the three didn't go in.
"I'm still looking at it in the air. I'm still looking at Goodwin's shot. We couldn't ask for a better look," Brey said.
"I give Wertz credit. Wertz really has a high basketball IQ," said Brey, who recounted telling the guard, "You got a good miss in you," at the timeout, "and he kind of laughed, you know, and he did. It was a clean miss. You got to remind your big guys, don't leave early, and I mean, it's in the air, and I'm thinking, you know, don't we kind of maybe deserve this one after … I guess not."
Clark didn't tiptoe around what had happened.
"You know, we got lucky, but you know, just feels good to get a win, especially this late in the season, and you know, you appreciate those. And you always just go back to film and just try to learn from it," Clark said.