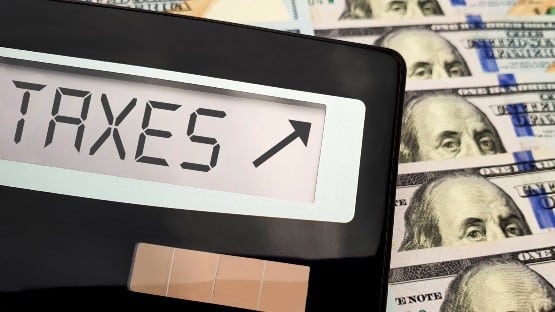 A group of House Republicans is working to replace the federal income tax with, get this, a 30 percent national sales tax.
You read that right – a 30 percent national sales tax.
That's how much they don't want rich people to have to pay taxes. They want you to pay 30 cents on the dollar for everything you buy.
"Instead of adding 87,000 new agents to weaponize the IRS against small business owners and middle America, this bill will eliminate the need for the department entirely by simplifying the tax code with provisions that work for the American people and encourage growth and innovation. Armed, unelected bureaucrats should not have more power over your paycheck than you do," said Georgia Republican Buddy Carter, the chief sponsor of what he has styled the Fair Tax Act, which you have to ask, who in their right mind would think a 30 percent sales tax is anything resembling fair.
Count Virginia Republican Bob Good, who represents the Fifth District, which includes neighboring Charlottesville, Albemarle and Nelson, among those who do.
Good is a cosponsor.
"I support the Fair Tax because it simplifies our tax code," Good said. "This transforms the U.S. tax code from a mandatory, progressive, and convoluted system to a fully transparent and unbiased system which does away with the IRS as we know it. It is good for our economy because it encourages work, savings, and investment. Thank you to my colleague Rep. Buddy Carter for leading this effort to simplify the system for American taxpayers."
This is what you get when you vote Republican these days, folks.
House Speaker Kevin McCarthy told reporters this week that he doesn't support the legislation, but he had to pledge to get the bill to the House floor as part of his many concessions to get the support of far right Republicans to become Speaker.
The tail is clearly wagging the dog in the House GOP caucus, as many had predicted during the Speaker battle.
"Everyone thought that Leader McCarthy would never go along with the MAGA Republicans as he ran for Speaker," Senate Majority Leader Chuck Schumer said. "I don't underestimate the power over McCarthy of these extreme MAGA Republicans. We have to fight this plan now before it gains any more steam. Too many Republicans support it."
Montana Democrat Jon Tester, appearing on MSNBC's "The Last Word," vowed a fight to the end to prevent this national sales tax idea from becoming the law of the land, noting the pressure on families with rising costs in healthcare, housing, childcare and retail and grocery prices.
"Now we've got Republicans in the House that wanna put a 30 percent sales tax on everything we buy? That's totally ridiculous," Tester said.
"I'll tell you, this is not the right thing to do," Tester said. "And I think quite frankly, it's a silly doggone idea. And like I said, over my dead body. We will fight every day until this thing goes down to defeat."