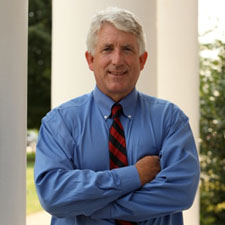 Attorney General Mark R. Herring has been named a member of the inaugural cohort of the Hunt-Kean Leadership Fellowship, an initiative of the non-partisan Hunt Institute to bring together 17 elected leaders from across the country who have an interest in and commitment to effective state-level education policy.
The one-year fellowship will launch this week with three days of meetings, seminars, and panel discussions in Memphis, Tennessee. The first convening will cover topics such as career and college readiness, accountability, testing and assessment, and tactics for improving underachieving schools. The bipartisan inaugural group of fellows includes secretaries of state, legislators, attorneys general, and lieutenant governors.
Moderators and presenters will include state-level and national education leaders such as former Virginia Secretary of Education Dr. Javaid E. Siddiqi and former Virginia Superintendent of Public Instruction Dr. Billy K. Cannaday, Jr.
"As Attorney General, I've worked to expand access to an affordable college education for students of every background, and to provide important public safety education to our middle and high school students through our Virginia Rules program," said Attorney General Herring. "I come from a family of teachers, and I know that Virginia's investments in education can be transformative for individual students, communities, and our Commonwealth's economy.  I look forward to hearing a diverse range of ideas on how to strengthen Virginia's schools and how my office can play a greater role in expanding educational opportunities."
The fellowship is a project of the non-partisan Hunt institute, an affiliate center of the University of North Carolina at Chapel Hill named for and founded by Jim Hunt, former Democratic Governor of North Carolina.  The fellowship is named for Hunt and Tom Kean, former Republican governor of new jersey. The fellowship is an opportunity for state-level officials to engage on legal and policy issues surrounding education, and participation does not imply an endorsement of any particular policy ideas.
"Our vision is to provide policymakers with the core knowledge they need to promote effective education agendas. By investing in America's policymakers, the Hunt-Kean Leadership Fellows will build a cadre of informed and motivated educational change agents with the necessary influence to reform state education systems and improve outcomes," said Governor Hunt.
Created by the University of North Carolina Board of Governors in 2001 to honor and continue the legacy of former Governor Hunt, The Hunt Institute collaborates with policymakers to secure America's future through quality education.  Working at the intersection of policy and politics, The Hunt Institute connects leaders with the best strategies for developing and implementing policies and programs to improve public education.  To that end, The Institute convenes governors, policymakers, and legislators, as well as business, education and civic leaders across the nation to provide them with the best information to make informed decisions.