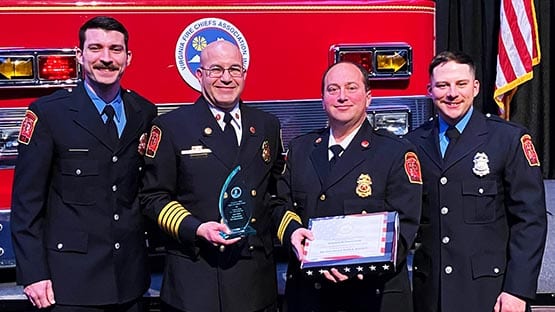 Harrisonburg Fire Department Chief Matthew Tobia was named the Virginia Fire Chief of the Year on Wednesday during the Governor's Fire Service Awards, facilitated by the Virginia Department of Fire Programs and the Virginia Fire Services Board.
The announcement came during the annual Virginia Fire Rescue Conference with Tobia earning special recognition amongst the more than 700 fire and emergency service organizations in the Commonwealth.
"His greatest desire is to just help people, no matter how," Harrisonburg City Manager Ande Banks said. "He works tirelessly to accomplish this. I rest easier knowing Chief Tobia is at the helm of the Harrisonburg Fire Department. Not only because that means our community is safe, but because I know every member of our team is getting to grow through seeing his leadership and dedication every day as he works to leave The Friendly City better and stronger than he found it."
Tobia has spent the last three decades leaving his mark on the fire service. He previously served with Anne Arundel County Fire Department in Maryland and Loudon County Fire and Rescue in Northern Virginia before settling in his home with HFD more than four years ago.
His work since arriving in Harrisonburg has helped not only the fire department as it has grown in the past few years navigating challenges such as the COVID-19 pandemic and the Miller Circle explosion, and he serves on the city's executive leadership team.
"Chief Tobia is a leader in our community on a number of fronts, and I am grateful for his time and contributions toward making Harrisonburg a better place for all," Banks said.
In addition to his work locally, Tobia has been instrumental in the National Fallen Firefighters Foundation, a nonprofit foundation that honors our fallen fire heroes and assists their families and co-workers, for more than a decade.
In addition to participating in the NFFF, he is deeply passionate about the Mid-Atlantic Burn Camp – an annual therapeutic residential summer camp. Tobia has volunteered with MABC for the past 20 years to assist young burn survivors in their adjustments to injuries.
The Harrisonburg Fire Department provides essential emergency and non-emergency life safety services to the public who live, work and travel in Harrisonburg.
More information about the fire department is available online at www.harrisonburgva.gov/fire