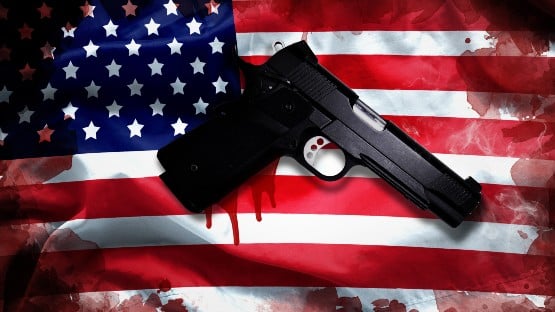 A group called Guns Down America is pushing a novel approach to gun control – aiming not so much at politicians, who we already know aren't going to do anything, but instead at Corporate America.
The backdrop to this story is the latest mass shooting in America, in which a neo-Nazi armed with an AR-15 shot up an outlet mall north of Dallas over the weekend, killing eight people.
Depending on when you're reading this, it's likely news of another mass shooting somewhere else in America that got Google to send you here.
Mass shootings are an almost daily occurrence in modern America.
"While law enforcement still explores the motive behind this mass shooting, what is already clear is that we have too many guns in this country and they are too easy to get," said Shannon Grady, interim executive director of Guns Down America, which was founded in 2016, in the wake of the Pulse Nightclub shooting that killed 49 and wounded 53.
Guns Down America has led successful corporate accountability campaigns that resulted in Walmart cutting back on the number of guns it sells, FedEx eliminating a discount for NRA members, and private insurance companies that were selling lucrative "murder insurance" to NRA members.
That "murder insurance" protected gun owners who shoot someone and then claim self-defense, providing coverage for criminal legal defense, firearm replacement, cleanup costs, payouts to bail companies, and a 24-hour legal hotline with guidance in how to avoid prosecution.
An investigation into the insurance program initiated by a New York state regulator led to the insurer Chubb and the broker Lockton halting the program and paying millions in fines.
Guns Down America does want to effect political change, but this strategy of prioritizing Corporate America seems like the better way to go, given the lack of spine from our political leaders.
"We may not have a House majority that puts our safety first, but that doesn't mean we are powerless," Grady said. "Corporate America must step forward and play their part in keeping us safe from gun violence, and Senate Majority Leader Chuck Schumer should immediately hold a vote on gun violence prevention legislation that will save lives."
Fat chance of that last thing happening.