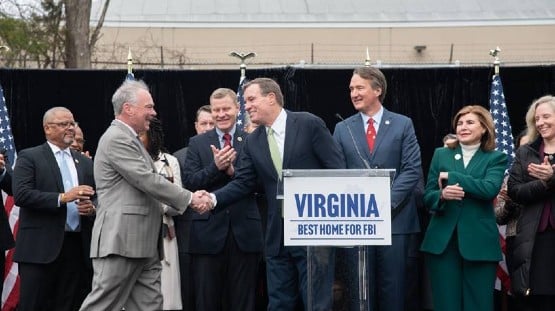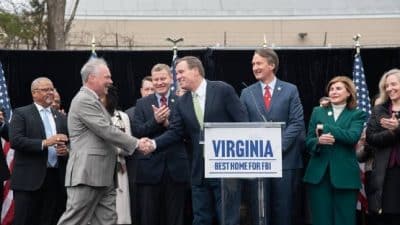 Virginia Gov. Glenn Youngkin, officials and community leaders held a press conference in Springfield yesterday to outline why the northern Virginia site is the ideal location for a new Federal Bureau of Investigation headquarters.
Springfield provides support for the FBI mission requirement, transportation access, site development flexibility, promotes sustainable siting and advancing equity, and cost.
"We all came together to reinforce the case that the new FBI headquarters needs to be in Virginia, needs to be in Springfield," Sen. Mark Warner of Virginia said in a conference call with media on Thursday morning.
Springfield is close to training at Quantico Marine Corps Base in Stafford, Virginia, and other assets nearby. Warner said that, as chair of the Senate Intelligence Committee, he knows other FBI partners are near the Springfield site, and the site is already owned by the federal government.
Sites in Greenbelt and Landover, Maryland are also under consideration for the new FBI headquarters.
In Thursday's press call, Warner gave President Joe Biden credit for including equity as a criteria for the new site. He said the FBI used to be "virtually exclusively white males." But the new site "needs to look like the face of America." Northern Virginia provides a population of individuals from different backgrounds and religions.
"We think Virginia will come out on top," Warner said.
He added that a decision needs to be made, and has been necessary for 15 years. The current FBI building is falling in on itself. Discussion will resume in early March between officials and community leaders.
"I think Virginia will be successful," Warner said.
In a press release, Youngkin confirmed the Commonwealth "is the best place to live, work and raise a family for law enforcement. The Commonwealth has a diverse workforce, hosts a well-positioned transportation network with close proximity to public and private sector partners, and is home to major federal agencies from the Pentagon to the FBI academy in Quantico. The Springfield site is ideal for the next FBI headquarters because it saves the most money for U.S. taxpayers. Virginia stands ready to ensure that the FBI is well-positioned to continue to serve all Americans."
Sen. Tim Kaine of Virginia said the Commonwealth is good for the FBI mission and for FBI employees.
"Between the fantastic transportation network, schools, business climate, national security network, diverse communities, commitment to affordable housing and site readiness, there's no better place for the FBI headquarters than Springfield, Virginia," Kaine said.
U.S. Rep. Don Beyer said the new FBI headquarters in Virginia "would be a huge boon to our region, and would bring opportunity to so many who need it. I look forward to working with my colleagues to continue making the case that Virginia is the best place to put the new FBI headquarters."
U.S. Rep. Abigail Spanberger of Virginia, a former federal agent and CIA case officer who worked joint cases with the FBI, was in Springfield Wednesday.
"This region has a strong respect for the FBI's employees and its mission, particularly because so many of these public servants already call Virginia home. I'm deeply proud to represent these extraordinary law enforcement professionals and their families, and I know that the FBI's mission will be strengthened by its long-term presence here in Northern Virginia," Spanberger said.
Del. Luke Torian, Chair of Virginia's Minority Business Commission, is pastor at First Mount Zion Baptist Church in Dumfries, Virginia. Torian speaks with Virginians from different backgrounds every day.
"From my constituents, I know that the Springfield community is an ideal location for the FBI to pursue its mission. Our vibrant, talented, and diverse workforce is ready to offer the FBI a steady stream of future career officers and law enforcement personnel for years to come," Torian said.
"I want to restate the Fairfax County Board of Supervisors' unequivocal support for Springfield as the choice location for the FBI headquarters," Fairfax County Board of Supervisors Chairman Jeffrey C. McKay said in a press release. "Our universal backing is based on multiple factors, all of which lead us to definitively state that the Springfield site is head and shoulders above the competition and makes the most sense for residents, taxpayers and FBI employees alike. The extraordinary economic opportunity that this investment would bring to the historically underserved, majority-minority community of Greater Springfield cannot be overstated."
Congresswoman Jennifer Wexton of Virginia issued a statement Wednesday on Springfield as the optimal location to establish a new FBI headquarters.
"I stand with my Virginia delegation colleagues from both sides of the aisle in emphasizing the overwhelming evidence for why the FBI's new home should be here in Springfield, Virginia," Wexton said. "A clear and convincing case was made today for why Springfield would be not only optimal for the agency but optimal for the local community as well."
Wexton said that Virginia is eager to "welcome the FBI and its many dedicated agents and staff here to the Commonwealth, and I look forward to continue working with my colleagues in a bipartisan way to highlight the many mutual benefits this move will bring."
In a press release on Monday, Virginia's leaders joined together in a letter to make a case for Springfield by detailing the ways Springfield meets the five selection criteria set forth by the General Services Administration and the FBI. Sens. Warner and Tim Kaine, Gov. Glenn Youngkin, and U.S. Reps. Bobby Scott, Rob Wittman, Gerry Connolly, Don Beyer, Abigail Spanberger, Jennifer Wexton, and Jen Kiggans signed the letter.
"The Springfield site presents the government with a comprehensive and holistic candidate location to house the FBI, as it performs strongly across all criteria. Springfield would provide the men and women of the FBI with a location that best enables them to meet their critical law enforcement and national security missions, allow GSA to execute that according to best practices in public real estate acquisitions, and provide the government with a strong and exciting opportunity to meet its community investment goals," the letter states.