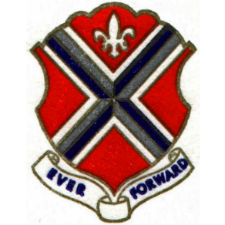 The 116th Infantry, the oldest continuous service regiment in the Virginia National Guard and seventh oldest in the United States Army, has seen service in every national conflict from the French and Indian War to Afghanistan.  At the Spring Meeting of the Augusta County Historical Society, 3 p.m. Sunday, March 16, a Staunton native and former commander of the Stonewall Brigade will speak on the frequently honored fighting unit, and ongoing efforts to remember those who served.
Brigadier General Theodore "Ted" Shuey (USAR, Ret.), former battalion and brigade commander in the 116th Infantry and current executive director of the 116th Infantry Regiment Foundation, will present "The Stonewall Brigade: One of the Nation's Oldest and Most Historic Military Units."  The presentation will highlight the storied history of the Stonewall Brigade, the creation of the museum in Verona, and the work Shuey is doing to commemorate the 116th Infantry Regiment in Normandy, france.
The meeting and presentation will be held in the Board of Supervisors' Room at the Augusta County Government Center in Verona.  Prior to the meeting, free tours will be offered at the nearby Stonewall Brigade Museum from12:30 to 2:30 pm.  The museum is located just north of the government center on U.S. 11 in Verona (566 Lee Highway).
Gen. Shuey commanded company-sized units in AltaVista, Farmville, Chase City and Rocky Mount before returning to his native Staunton to command America's Stonewall Brigade in 1997.  The Brigade dates back almost 275 years and has become known for the heroism of its soldiers during the Revolution, the Civil War, World War 1 and particularly in World War II when it led US forces in the attack on Omaha Beach – and suffered great loss.
Gen. Shuey was recalled to active duty after 9-11 to command Virginia's "Noble Eagle" Task Force.  He was named a Brigadier General in 2003 and became Deputy Commander of the 29th Division at Fort Belvoir.  He served the National Guard at the Pentagon prior to his 2007 retirement.
Since 2007, Gen. Shuey has devoted much of his time to historical research and writing.  His first book, Ever Forward, published in 2008, chronicles the history of the Augusta Militia.  A new edition to come out later this year will add material on the regiment's recent service in Iraq and Afghanistan.  He has also opened the Stonewall Brigade Museum in Verona and is working on two projects in Normandy, France, to commemorate the 116th.  One effort, at Sur de Vierville, France, will provide a site for a memorial statue to be dedicated on Omaha Beach in June, with additional statues to be added before the 75th anniversary of the D-Day landing.  His second project is the creation of a museum in france to honor the 116th.
The meeting is free and open to the public.